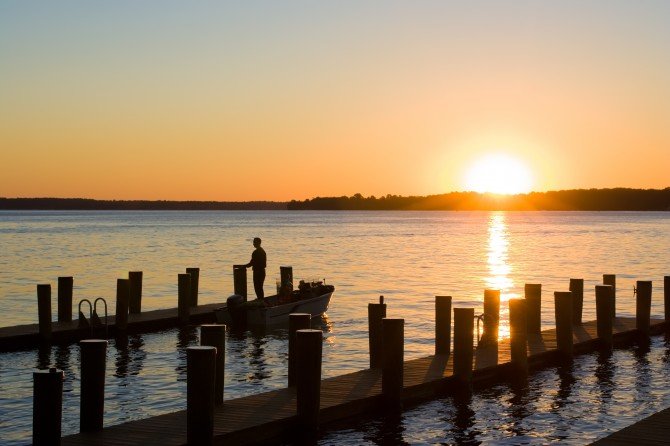 Most folks come to the beach to enjoy the ultra-fresh seafood, walkable towns, and watchable wildlife but there's much more to love about the Eastern Shore. There's lots to do this summer and lots of people who have the same plan of action for their vacation. Here's a seasonal sampler of a few Delmarvalous diversions and lesser known places to hang out outside, get out of the regular loop, and walk off the beaten path…
1.) Seacrets Jackspot Bar

Castaways RV Resort and Campground has paired up with Seacrets to create a little, not-well-known spot on the bay in West Ocean City. Just like the popular bayside bar located on 49th Street and the bay in town, Jackspot offers delicious drinks, a laid back tropical atmosphere, and rafts to float on in the bay. Seacrets signature drink, the Pain in the Ass (half rum runner, half pina colada), comes straight out of a slushy maker and is mixed with Bacardi 151. Live entertainment takes place on the beach almost every night throughout the summer. You must be 21 to relax at the Jackspot.

2.) Ayers & Trappe Creek Launch

Just east of Berlin, MD, those interested in paddling on the water can enjoy the unspoiled beauty of the Maryland coastal bays. The Newport Bay tributaries are open to the public via a 440-acre tract between Ayers and Trappe Creeks. Earlier this year the Maryland Coastal Bays Program completed construction on a new kayak and canoe launch at the site. From 1950 to 1980, the Lewis Road property was used as a public landfill. It has been cleaned up and turned into a recreational area. There is a large wooden walkway and a parking area.

3.) South Point Boat Ramp

Located at the end of South Point Road off of Route 611 headed towards Assateague there is a boat ramp that provides access to the Sinepuxent Bay. The area includes a paved parking lot, one large boat ramp, restroom facilities, and a great spot for fishing and crabbing. Be sure to take bug spray and all the supplies that you'll need. The closest bait store is roughly two miles away. It is recommended to crab during high tide because there isn't much activity in the shallows during low tide.

4.) Stinky Beach

Stinky Beach, known formally as Homer Gudelsky Park, is a one-acre stretch of bay front property in West Ocean City. The park overlooks OC and the Route 50 drawbridge. Stinky beach is great for fishing, walking your dog, or hanging out when it's super windy in Ocean City. Because Stinky Beach is bayside, you can enjoy the warm weather, sand, and salt water without howling winds that often blast Ocean City's beaches.

5.) Northside Park

Northside Park is most commonly known as the Ocean City Recreation and Parks hub. It is home to the Recreation Administrative offices and facilities. The 58-acre complex is also home to lighted softball and baseball fields, a soccer field, a multipurpose field, a fishing lagoon, a footbridge, concession stand, several playgrounds, a picnic pavilion, two piers, and many walking and jogging paths. Just bring your own equipment and your opportunities for outdoor recreation are endless. Northside Park is located at 125th Street in Ocean City.

6.) Indian River Life-Saving Station

The Indian River Life-Saving Station was built in 1876 for the United States Life-Saving Service. Since then, the station has been turned into a museum commemorating those who saved lives on the coast, the many local shipwrecks, and history of the Eastern seaboard. One hundred years later, the station was added to the National Register of Historic Places. Currently, the landmark is restored to its 1905 appearance; one that would make for a million great memories. The white sandy beach and the historic station offer a relaxed setting a more than enjoyable day on the beach. The beach here is typically deserted in comparison to other nearby beaches. There are restrooms at the museum, too. Laying out, playing in the surf, and lounging seems much better when doing so next to a historical landmark.

7.) Assateague Island

A visit to Assateague is a quintessential element of any Eastern Shore trip. The beaches are less crowded that anywhere else, people are clustered around bonfires, and the sun seems to hang securely in the sky before sinking into the bay. The wild ponies add and element of surprise, too. You can pick up an annual pass at the Ranger Station for only $30. Weekly passes are $15.
Enjoy your time on the shore!