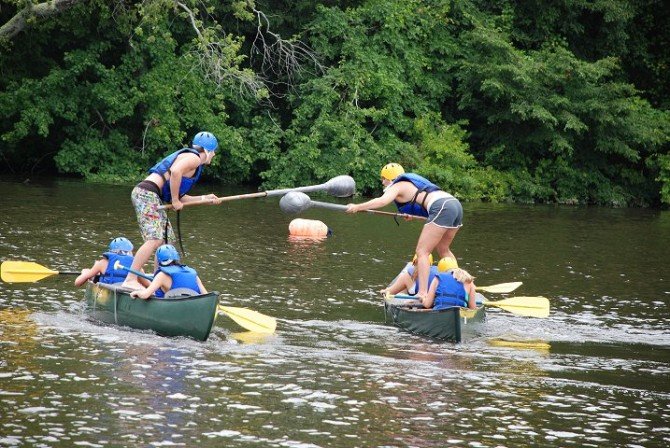 It's the dead of summer. It's hot, the sun shines forever, and the ocean water is nice and warm. Socially Speaking, if you can't beat the heat, we think you should just get in the water. Many of this weekend's exciting activities happen at dusk; the perfect time for kicking it outside. If you're not outside enjoying warm breezes along the ocean or cruising along the jellyfish filled baywater, check out some of these great events happening on the Eastern Shore this weekend.
Movies on the Beach
Families in Ocean City on Saturday can sit back, relax, and watch a movie on the beach. Free movies, projected on a big-screen, take place Oceanside on 27th Street in OC during the summer months. On Friday, July 6th, the movie HOP will be screened. Beach movies are weather-permitting and will be canceled if weather is inclimate.
Beach Lights Spectacular
OC Beach Lights presents a Beach Lights Spectacular on Sunday, July 8th. The free laser lights show will be displayed on a giant five-story beach ball and is choreographed to music. Three shows will take place: 9:30, 10, and 10:30 pm. The show will be lighting up the beach at North Division Street in Ocean City three times every Sunday night through Labor Day Weekend.
Chincoteague Volunteer Fire Company
This year, the Chincoteague Volunteer Fire Company and its Ladies Auxiliary will host the 87th annual Carnival and Pony Penny Events. This event has been dubbed one of the top 100 events on the entire east coast. The Volunteer Fire Company's Carnival is open from 7 – 11 pm on Friday and Saturday nights. Fireworks will be set off at 10 pm on July 7th. Live entertainment will take place, souvenirs can be purchased, games, rides, food, and raffles will set up, too. Admission to this event is free.
Sundaes in the Park
Have a sundae this Sunday in Ocean City. Bring the family, a chair, or blanket and enjoy an after dinner treat. Free local and regional musical groups will perform. From 7 – 9 pm, guests can create their own ice cream sundae for a small fee. Free family concerts are offered every Sunday evening in July and August. Sundaes in the Park take place in Northside Park, 127th Street, bayside in Ocean City.
Pocomoke River Canoe Joust
Witness something quite absurd this weekend in Snow Hilly, MD. The annual Pocomoke River Canoe Joust takes place along the Pocomoke River in Snow Hill this Saturday, July 7th. Starting at 10 am, teams and individuals will take stance in their canoes and go head to head in a battle to capsize. Registration begins at 10 am in Sturgis Park. Games start at 11 am. Teams of 3 can register for $65. Bring your ID to register. Money raised benefits the Snow Hill Fire Department. Participants will receive a t-shirt and beverages. Mojo, a local band, will perform from 8 pm – midnight after the jousts.