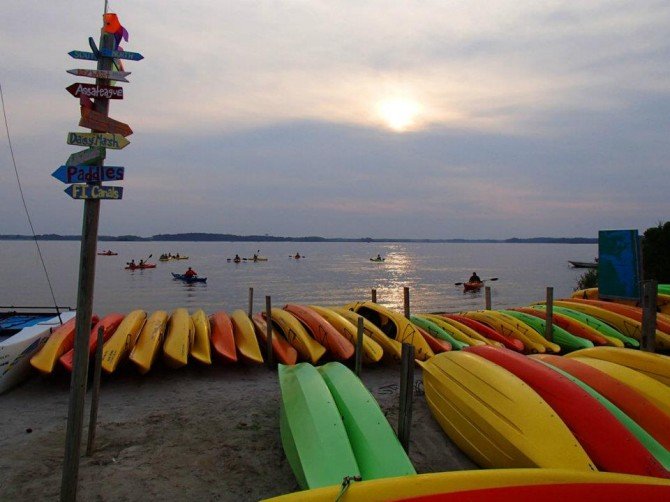 "The Salt Marsh Tour is our most popular kayaking trip. We take people out to the salt marsh and kayak through it while looking for birds, plants and wildlife. The trip takes about an hour-and-a-half on the water," said Jillian Shutt, a seasonal employee at Coastal Kayak.
Coastal Kayak
is a eco-friendly watersports business located on Route 1 just north of Fenwick Island, DE and only a short drive from Ocean City, Rehoboth Beach, Bethany Beach, and Dewey. Coastal Kayak has been in the eco-tourism field for more than 20 years and has a staff of experts who specialize in eco-friendly activities, water tours, and on-water safety.
Coastal Kayak offers nearly 10 different types of tours as well as kayak, sailboat, and paddle board rentals. Their guided nature tours take place on the water.
Tours offered include:
Salt Marsh Tour
Bald Cypress Tour
Assawoman Wildlife Refuge Tour
Woodland Tour
Assateague Island Nature Tour
Morning Rookey Tour
Sunset/Moonrise Tour
Wildlife Refuge SUP Tour
As Jillian Shutt explained, the Salt Marsh Tour is the most popular tour. A tour of local marshes allows participants to get up-close to nature and see herons, egrets, oyster catchers, osprey, skimmers, and horseshoe crabs in their natural habitats.
"Most people are curious about animals that live in the marshes and in the water. People love horseshoe crabs. Sometimes a tour guide can reach over the side of their kayak, pick up a crab, and show the other kayakers the underside of the crab," Shutt said.
The Wildlife Refuge tour has been a customer favorite this year, too, mostly because of beautiful wildlife sightings. A bald eagle nest is situated along the kayaking route.
"Everyone thinks the eagles are cool. They're really neat to see," said Shutt.
Pelican sightings occur regularly too and people are often surprised by how large the birds actually are.
If you're looking for a chance to tour an eco-system that's been preserved impeccably, book a trip on the Assateague Island Nature Tour. Big white vans with the Coastal Kayak logo on the side transport kayakers to Assateague Island where they will explore the bay lands on the National Park. Sometimes, the Coast Kayak crew will just meet participants, who've book in advance, at the park with kayaks. Coastal Kayak provides all guests with a kayak or other water vessel, a paddle, and a lifejacket. Water shoes and water proof bags can be rented for a small cost, too.
Most kayak tours costs about $50 per person. Prices range based on tour length, type of water vessel used, and transportation. Highly-trained guides accompany each group of kayakers or paddle boarders while on a tour.
"We suggest that you call ahead if you're interested in going on a tour. Call the day before or call the morning of a night tour," said Shutt.
Group sizes are limited to ensure participants' enjoyment. Large groups of kayakers are usually paired with a lead tour guide and an assistant tour guide. Smaller groups are paired with only one guide.
"We advise larger groups to call a couple of days in advance so we can make arrangements for the tour," Shutt added.
More popular this year, than years before are the stand-up paddleboards. This is one of the first years that a stand-up paddleboard tour is being offered through Coastal Kayak. Paddleboards may be rented from the bayside building in Fenwick. Also available for hourly, daily, or weekly rent are 'sit in' and 'sit on' kayaks, catamarans, and canoes.
Coastal Kayak's goal is to provide each of their participants with a unique and enjoyable experience on the water. The staff at Coastal Kayak wants everyone to walk away from their bayside location with an increased appreciation and awareness of the importance of preserving our natural resources.