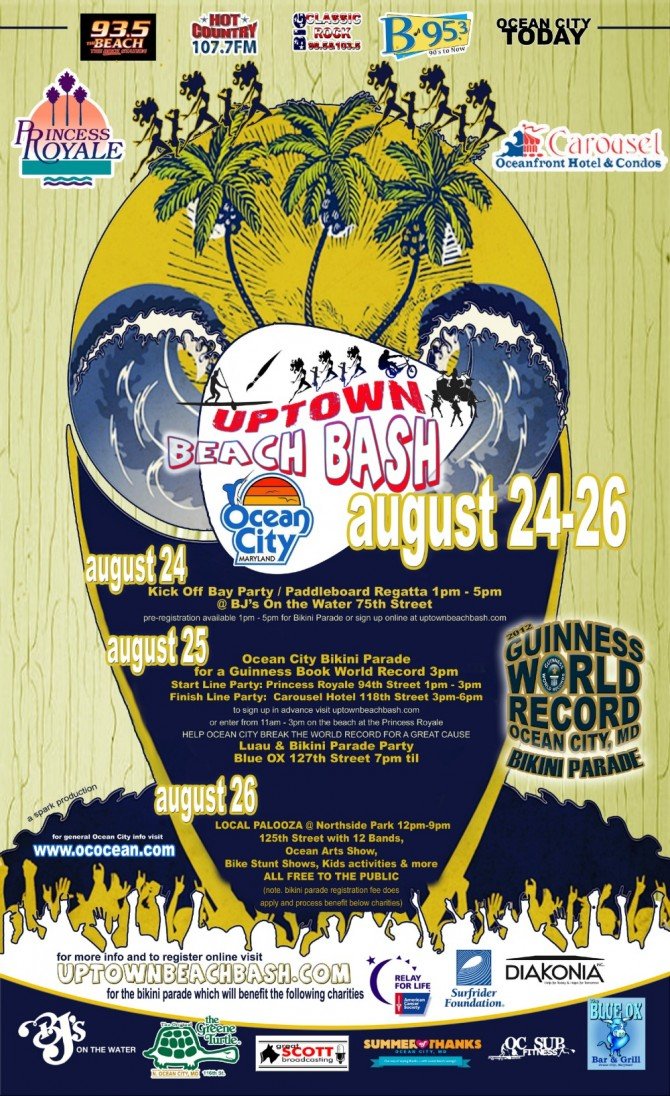 Women planning to vacation in Ocean City, MD during the last weekend of August should remember to pack their bikinis. If they are wearing a bikini on August 25th, they should plan on being in a parade. If they plan on being part of the parade, they should plan on helping break the record for 'world's largest bikini parade' as seen in the Guinness Book of World Records and helping local charities.
Earlier this year, Panama City Beach, FL, broke the then current record. Ocean City plans to strike back and topple the Florida record by having more women in bikinis take part in the event.
Panama City Beach saw 450 women parading in bikinis. The group of women walked one mile in the sand on March 27th, 2012. Ocean City hopes to have at least 451 women parading in bikinis on August 25th.
Many of the women who participated in the March bikini parade were visiting Panama City for Spring Break. Brad Hoffman, of
Spark Productions
, the company coordinating the parade, insists that the Ocean City bikini parade will be a family-friendly event and open to women of all ages. Females of all ages are encouraged to participate.
Registration for the event costs $10 per person. 60% of all registration fees will be donated to local charities. Receiving charities include
Diakonia
(a shelter for individuals dealing with troubling life events), the
Surfrider Foundation
(an organization that protects and preserves beaches), and the
American Cancer Society
(an organization that supports individuals fighting cancer and provides funds for cancer research).
The parade route begins at the
Princess Royale
on 91st Street and proceeds to the
Carousel Resort Hotel
on 118th Street. After the parade all participants, friends, and family are invited to celebrate the forecasted record-breaking event. An after-party will take place at the Carousel resort and the
Blue Ox
on 127th Street in OC. Northside Park (125th Street) will also host a celebratory party featuring live bands and other forms of entertainment.
Help support our local charities and break a world record while hanging out in your bikini on August 25th. To register for the event, or to make a donation to the above mentioned organizations, follow the link to the
Bikini Bash Registration page
. More information can be found on the
event website
or on
Facebook
.