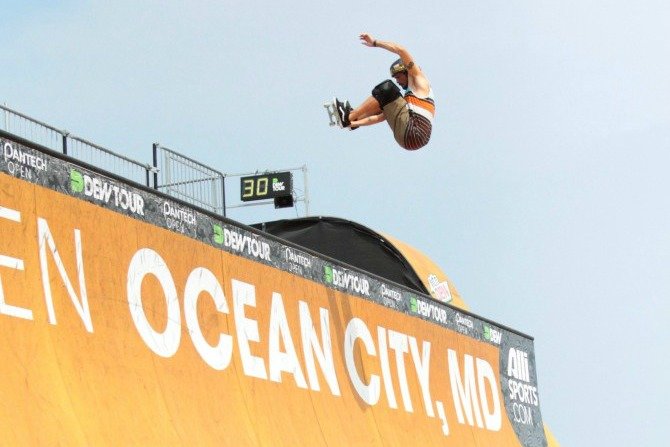 Planning to attend the Dew Tour? Want to know when you should show up to catch your favorite competitor? We've got event and concert times, too. ShoreBread's got the whole lineup listed and organized for your planning convenience.
The Dew Tour is returning to Ocean City, MD August 15th – 19th. The beach at Dorchester Street will be transformed into a portable concrete skate bowl, BMX platform, stage, and seating arena. Four days of non-stop action, featuring the biggest names in skateboarding and BMX along with popular musicians, are planned.
Local skaters competed in a competition at Ocean City's Skate Park over the weekend to qualify for a spot in the Dew Tour. Skaters and BMX champs ages 21 and younger brought their all tore up the park. The winning competitors will be competing in the Dew Tour's Free Flow Tour on August 15th and 16th. Visit the concrete skate bowl on the beach to cheer on our local thrashers.
New for 2012, beach-goers won't be able to miss the massive Mega 2.0TM ramp that will host huge airs and technical tricks.  The Dew Tour Experience will be an all-day party, with giveaways and athlete autograph sessions.
Live concerts will take place on the Dew Tour stage on Thursday, Friday, and Saturday nights. The bands, DJs, and rappers attending are sure to perform in front of an energetic crowd. All concerts are free and open to the public. Get there early, stand in line, claim your spot, and get psyched for many great shows.
The Dew Tour Pantech Beach Championships will be free to attend. Premium Passes are available for purchase on the
Dew Tour website
. Premium Passes will be limited and include reserved seating or viewing areas at each competition, Dew Tour exclusive giveaways, a souvenir credential and a special gift from
Dogfunk
. Tickets are available at
Ticketmaster
and on the
Dew Tour website
.
Check out the event lineup below:
Wednesday, August 15th
Free Flow Tour Skateboard Bowl Final4:00 – 5:00 pm
Thursday, August 16th
Free Flow Tour Skateboard Vert Finals12:30 – 1:30 pm
Skateboard Bowl Semi-Finals2:00 – 4:30 pm
Free Flow Tour BMX Park Final4:30 – 5:30 pm
BMX Vert Final Round 15:30 – 6:30 pm
Skateboard Bowl Legends Final7:30 – 8:30 pm
GoDaddy.com Surf Expression Session8:30 pm
DJ Set by RAC8:30 pm
Friday, August 17th
BMX Park Prelims3:30 – 5:30 pm
BMX Vert Final Round 27:30 – 8:00 pm
Skateboard Vert Semi-Final9:00 – 10:00 pm
Theophilus London Concert9:00 pm
Lupe Fiasco Concert10:00 pm
Saturday, August 18th
BMX Mega 2.0 Final1:00 – 1:45 pm
Skateboard Vert Final2:00 – 3:00 pm
Rites of Ashes Concert3:00 pm
The Perfects Concert3:45 pm
Vital Concert4:30 pm
BMX Park Semi-Final5:30 – 7:00 pm
Dallas K Concert8:00 pm
Two Fresh Concert8:45 pm
Wolfgang Gartner Concert9:30 pm
Sunday, August 19th
BMX Park Final1:45 – 2:15 pm
Skateboard Bowl Final2:45 – 4:00 pm
BMX Flatland4:30 – 5:15 pm
Skateboard Mega 2.0 Final6:00 – 7:00 pm