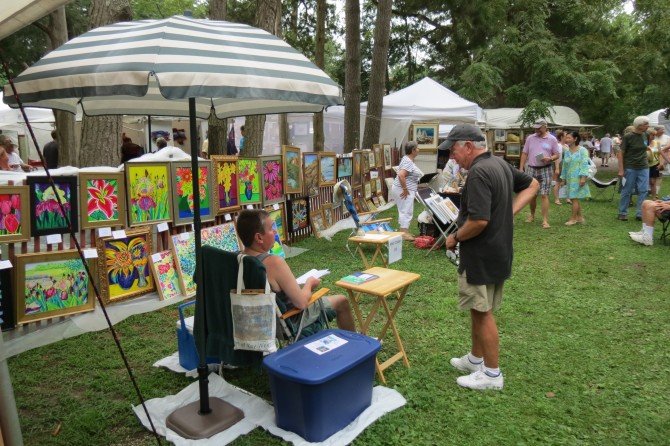 This weekend, artists and the thousands of patrons who appreciate their work will converge upon the 3.5 picturesque acres of the Rehoboth Art League Campus for the 39th Annual Outdoor Fine Art and Fine Craft Show. Proceeds from the show benefit the nonprofit Rehoboth Art League, who for nearly 75 years has provided artistic space, classes, events, and education to the community.
Over 100 artists from the Mid-Atlantic region who work in a variety of mixed mediums will showcase their works, surrounded by a historic backdrop featuring the Peter Marsh Homestead, a well-preserved 1743 home, the 1780 Paynter's Studio, lush gardens, and ancient trees. The setting provides an extension of the arts—the marrying of natural beauty with manmade historic architecture and a wonderful assortment of contemporary art.
The show, according to Rehoboth Art League Executive Director, Shelia Bravo, was created to permit artists to showcase their work to a large audience, and is one of only a handful of Fine Art shows in the entire region. The organization of the event is really a collaboration between the League and the artists, says Bravo,
| | |
| --- | --- |
| | Patrons looking at works by photographer Kevin Fleming. |
"Participating artists actually help us plan the show – to ensure we are meeting their needs, and leveraging their experiences from other shows."
The show is a two-weekend event and started last weekend, August 10th-11th. First time exhibitor Robert Weston (Booth #115), who works with wood, expressed his pleasure following the first weekend of the show, stating in an email to the Art League,
""I have been a professional cabinetmaker most of my life. I know how to sell; I know how to produce. Nothing could have prepared me for my first weekend as an exhibitor in your August Outdoor Show. The exposure to art-loving people was enough to justify the preparatory expense and work. But add-in the fact that I sold 25% of my displayed work and I am just overwhelmed."
| | |
| --- | --- |
| | The Art League grounds offer shade to interested art buyers. |
Weston is joined by roughly 115 other artisans who work in a range of artistic mediums including: pottery, clay sculpture, ceramic art tile, silver and fused glass, ceramics, fiber, jewelry, metal, forged iron, mixed media, painting, photography, watercolor, and wood. Patrons are welcome to browse through the artists' booths, appreciate their works, and purchase any pieces they simply can't leave without.
Over 5,000 people attend the Outdoor Show over the two weekends it's held. Those who attend can further their experience by dining on delicious eats from Nage restaurant, or drinking a number of coffee beverages roasted on-premise at the Point Coffee and Bake Shoppe, while sitting in the tranquil gardens, listening to music from the likes of Marv Ashby and High Octane, or the Delmarva Dandies, a strolling barbershop quartet.
The Annual Outdoor Fine Art and Fine Craft Show is a signature program for the Rehoboth Art League. It is underwritten in part by Echelon Custom Homes, Ocean Atlantic Sotheby's, and Tidewater Mortgage Services.
| | |
| --- | --- |
| | Lemonade Sales support the Art League's Outreach Program. |
If You Go:
Rehoboth Art League 39th Annual Outdoor Fine Art and Fine Craft Show
Saturday August 18th 10 a.m. to 5:00 p.m.
Sunday August 19th 10 a.m. to 4:00 p.m.
Located on the Rehoboth Art League Campus 12 Dodds Lane Henlopen Acres
Directions: From the traffic circle on Rehoboth Avenue, take Columbia Avenue going northeast. At 2nd Avenue, turn left (north). Follow 2nd Avenue, which becomes Dodds Lane, directly to the Art League, on the right.
Admission: $5 per adult (no fee for those under 18), and can be applied to either a one-year membership to the Art League, or purchases over $100.
Parking Hints: Parking in Henlopen Acres is limited. Unless there is a "No Parking" sign, cars must park in the grass with tires off of the street. A free Jolly Roger shuttle service is available from the K-Mart Shopping Center on Route 1, or the Rehoboth Beach Elementary School at 500 Stockley Avenue.
A map of the Outdoor Show and grounds is below:
Featured image of artist Mike Cooper and others using a fence to display their work.
More on the Rehoboth Art League: