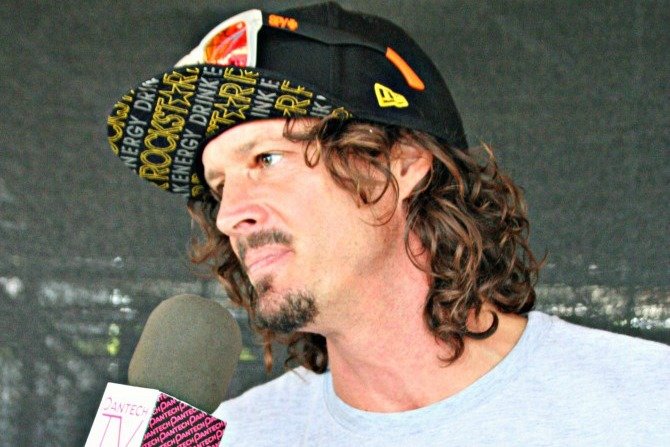 Pantech Wireless announced yesterday that two premier BMX and skateboarding professional athletes – Bucky Lasek and Brett Banasiewicz – will represent the brand, a leading wireless device manufacture, as Team Pantech when they compete in the 2012 Dew Tour.
Alongside the concrete skate bowl built atop the sand in Ocean City yesterday, Lasek peeled the backing off of a large neon pink Pantech sticker and stuck it to his shiny black helmet. He made an angelic 'ahhh' sound as he ran his hand over the sponsorship sticker in front of Pantech officials. Within minutes, the skater was back on the ramp warming up for events taking place later this weekend.
Lasek is scheduled to compete in the Skateboard Vert semi-finals today at 9:00 pm. Brett Banasiewicz will compete in the BMX Park semi-finals on Saturday at 5:30 pm.
This marks the second season that Pantech will sponsor Lasek and Banasiewicz. Two of the most recognizable names in action sports, these athletes were selected to represent the Pantech brand because of their superior athletic ability and dedication to their sport.
"These remarkable athletes are role models to our core audience and have a tremendous positive impact on the sport and the Pantech brand," said Erin Magee, director of channel marketing, Pantech. "Bucky and Brett are excellent brand representatives and we are excited to have such a strong roster of Pantech athletes in the 2012 Dew Tour."
Known as one of the greatest vert skateboarders, Baltimore native, Bucky Lasek, will be a hometown favorite at the Dew Tour season opener. After winning the skateboard vert final in last year's Ocean City event and edging out action sports powerhouse Shaun White, Lasek will look for a repeat performance this year. At 39 years old, Lasek continues to tear up record books and is one of the most decorated athletes in his sport. With aggressive and innovative style, Lasek also impresses in the best trick and bowl contests, too.
"Pantech continues to show solid support for the action sports community and I'm honored to once again be part of Team Pantech," commented Lasek at the Dew Tour yesterday.
From South Bend, Indiana, Brett Banasiewicz, 17, may be one of the younger BMX competitors in the Dew Tour, but he's far from inexperienced. Attacking the course with speed, style and fearlessness, he cleanly executes tricks that many pros will not attempt. Banasiewicz continues to be one of the most consistent BMX riders in both Park and Dirt courses, finishing in the top four overall for the last two years at Dew Tour events.
Lasek and Banasiewicz will participate in special autograph sessions at Dew Tour events. Dew Tour fans will also have the opportunity to interact with the Pantech brand and products, such as the new Pantech Flex, at the Pantech Experience during the 2012 Dew Tour events.
| | |
| --- | --- |
| | Lasek looks to Pantech officials during an interview in Ocean City. The skateboarder was asked how he felt about representing the official wireless device partner of the 2012 Dew Tour. |
| | |
| --- | --- |
| | Lasek applies a new Pantech sticker to his helmet while on the sidelines of the Dew Tour skate bowl yesterday. |
The Dew Tour Pantech Beach Championships will be showcased across 11 broadcast hours on NBC and NBC Sports Network featuring an all-new digital platform with live streaming and exclusive behind-the-scenes, in-depth content on
dewtour.com
. For additional Dew Tour event information, visit
www.dewtour.com
. For a schedule of events and concerts, check out this
ShoreBread article
.
Featured image of Bucky Lasek during an interview yesterday in Ocean City.
All photos by Ami Reist.