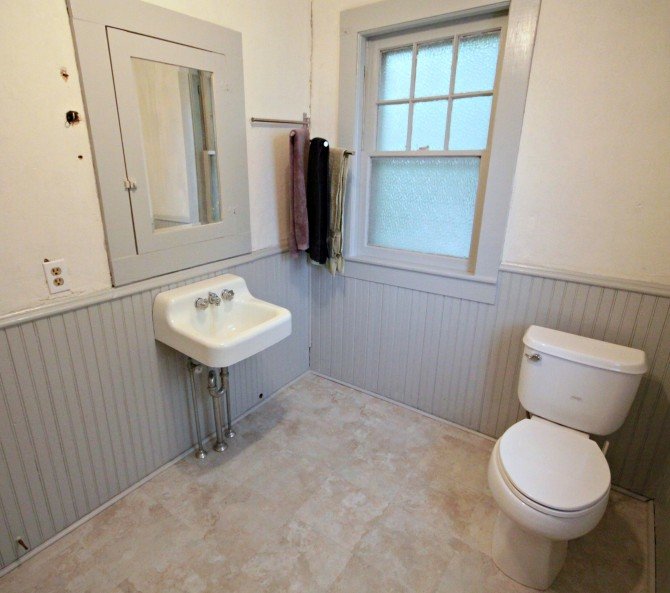 When we first started the Humphreys House a little less than a year ago now, we said to ourselves that we would take care of the most important things first. Initially that was to redo the now finished the kitchen and both bathrooms. Note bathrooms, plural, as in more than one. After all, we were going from having 5 bathroom sinks and 3 toilets down to , well ……. Here's the thing, we ran out of resources (money and time ) so we moved in with one bathroom and a dirty half.
The dirty half was supposed to be the main bathroom for four of us, the upstairs bathroom ended up not getting a whole lot of attention. Sure, we replaced the toilet and took out the old shower and tiled the new. Most would shriek in horror if they saw the size of the sink that this family of five now used, well four of us in this bathroom.
Finally this bathroom received the TLC that it deserved. A new easy-to-install peel and stick floor and a coat of paint on the original wainscoting makes the bathroom feel warm and inviting. The cool colors that we have used in the house are continually proving to to draw the original character out. It is truly amazing what one coat of paint can do to old walls and windows. Paint refreshes the entire room, now we just need to get the glass shower surround and eventually a new sink and we will be fully set.
There is still more to be done throughout the house, and there will always be. Its a 100-year-old house so it will never be done, but a little paint and trim seems like a big victory in a place where you spend a good amount of your time.