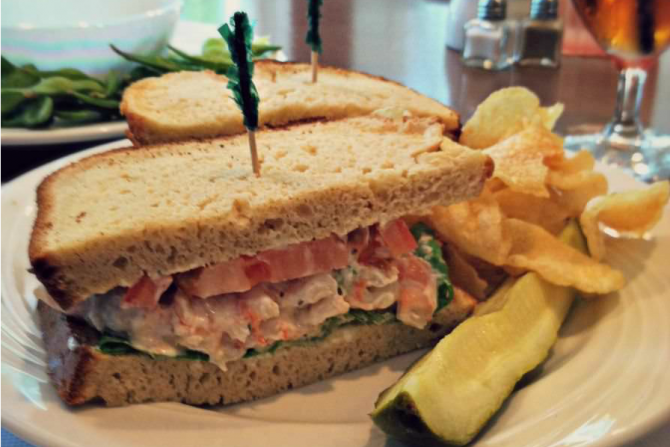 My sister and I stumbled upon a gem the other day while traveling in Delaware. The Café on 26 is located, you guessed it, on Rt. 26 in Ocean View, Delaware. A converted house creates cozy nooks for dining and gives endless character. Old fireplaces, refinished hardwood floors, and antique light fixtures give a sense of history. The menu, however, is anything but old-fashioned. Open since May 2010, the Café has been specializing in a gluten-free menu. Don't worry gluten lovers- the Café still offers traditional bread, too.
Gluten is a protein found in wheat, rye, malts, triticale and barley and it gives bread its structure, elasticity, and airiness. Gluten-free diets have gained increasing popularity of late as antidotes to a plethora of ills-ranging from obesity to autism. Individuals with Celiac's Disease and wheat allergies have gluten intolerance and need to cut the stuff out completely. Although the jury is still out on some of the prior connections, many people have adopted this diet for one reason or another. Truly following a gluten-free diet can be challenging because it is used in many unexpected ways (as thickening agents and stabilizers in ketchup, ice cream, and medications for example). Many large brands are finally addressing this diet concern, but local options are slim. Luckily, our friends at The Café are sensitive to these issues and can help.
I am not gluten-free but appreciate the need for diet options and love to try new things. We were led to small room, probably once a sunroom, with a private table and couch.  Very charming and secluded- they could probably sense that my sister and I were going to be chatty. In another circumstance, this could make for a very romantic setting. The quaintness of the exterior drew us in, but the menu kept us there.
The lunch menu includes soups, salads, a quiche of the day, and lots of sandwich options. After much deliberation, I decided on a shrimp salad sandwich. I also had to try the gluten-free bread. The shrimp salad was made in house, with large, fresh shrimp, coarsely chopped.  The shrimp to mayo ratio was incredibly high- not a lot of mayo, tons of shrimp. Delicious.
As I was eating, I forgot that I had ordered the gluten-free bread. The appearance and texture were very bread-like; airy and moist. Because of its lack of gluten, gluten-free bread can be terribly dense and unappetizing. This was not the case. I also had a side of Tabouli salad. Theirs is made with quinoa and light vinaigrette. It was a nice addition.
My sister's Cobb Salad was huge and super fresh.  Loaded with avocado, bacon, carrots, gorgonzola crumbles, tomatoes, and candied walnuts, topped with homemade honey mustard dressing, I could only negotiate a small bite. After seeing how delicious it looked I was not surprised that it tasted just as good.
The Café also has a coffee bar and espresso machine so my sister also tried a delicious Vanilla Chai Tea Latte. Warm foamed milk and vanilla chai- the perfect addition to a leisurely lunch.
The Café on 26 proved to be a great find- with reasonable prices and food offerings for both the generalist and the gluten-restricted. All in a quaint setting, blocks from the beach. Next, all I needed was a nap!