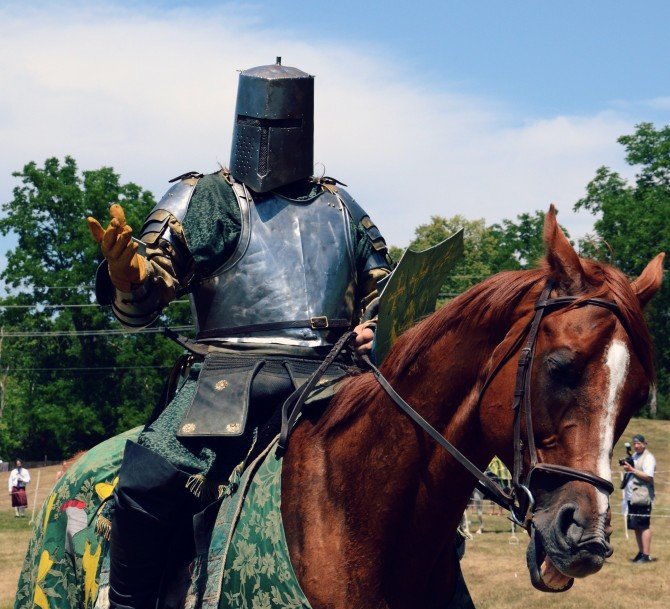 Located at the heart of the Furnace Town Living Heritage Museum is a pile of bricks and rubble covered in fallen pine needles and yellowed leaves. This pile of weathered bricks marks the site of an early 19th century bake shop. The bricks, more specifically, were part of community ovens. Although food hasn't been cooked in these ovens since the 1800's – Adventurous dishes will be created and lots of cooking will take place in the heart of Furnace Town this weekend.
"We'd love to build and restore our community kitchen since ours is rubbish," said Furnace Town Executive Director, Heather McAllen.
Since restoring the historic community kitchen isn't in the Furnace Town budget quite yet, the clans who love Furnace Town will just have to bring their own food to the property instead.
"Fried lamb belly stuffed with potatoes and vegetables will be offered. Also on the menu are pot pies, Sheppard's pie, turkey legs, and more modern things – for those less adventurous eaters – like seafood and traditional fair food," said McAllen.
This weekend, October 6th and 7th, the 23rd annual Chesapeake Celtic Festival will take place on the grounds of Historic Furnace Town in Snow Hill, MD. The event is known for its Celtic pride, traditional food, fun music, fast dancing, and fine arts and crafts.
Celtic descendants from MD, PA, NJ, OH, and other nearby states will make the journey to the living heritage museum nestled inside of the Pocomoke Forest to participate in the many activities planned during the festival.
"The festival is a really neat way of looking at heritage. Everyone who attends is interested in tradition and sharing those traditions with others," McAllen said.
The Celtic nations (as defined by the Celtic League and other Celtic nationalists) are Ireland, Wales, Brittany, Scotland, Cornwall, and the Isle of Man. Each of these Celtic nations will be represented at the Chesapeake Celtic Festival. Music, dancing, comedic shows, storytelling, genealogy, and reenactments will take place throughout the day and vary based on Gaelic traditions.
"We're really excited about the Celtic church service that will be held on Sunday morning. Jeanne du Nord will be leading the ceremony in the Chapel. The entire ceremony will be conducted in Gaelic and Celtic music will be played during the ceremony," said McAllen about the traditional services.
Antique collectors across the Eastern Shore should be excited about the Chesapeake Celtic Festival, too. Charlene Upton, a local antique dealer, will be on site and appraising antiques – for free. In exchange for admission, people can bring in antique items and the antique specialist will place their values.
"People normally bring in books, musical pieces, artifacts, pottery, or things that have been handed down to them," McAllen commented.
The Furnace Town Museum is filled with antiques. Artifacts from the old town that once occupied the plot of land that the museum now sits upon was covered with commonly-used pieces that had been strewn aside when the town was abandoned but its inhabitants centuries ago. Furnace Town's resident artisans will be open and conducting practices as normal during the festival. Old historic homes and shops are occupied by a blacksmith, weaver, gardener, broom maker, and wood worker.
The Harrison House, a one-room home usually filled with traditional 19th century home goods will be transformed into a whiskey sampling station on Saturday and Sunday. For $5, those 21 years of age and over can participate in Scotch whiskey tastings. Guests are invited to compare the tastes of choice Scotch whiskeys starting at 1:30 pm during the festival. Those who participate will receive a Celtic Festival shot glass as a commemorative gift.
Other alcoholic beverages will be available for purchase. Great Shoals Winery has partnered with a Maryland farm to produce a product that showcases the flavors of local apples: the Spencerville Red. This sweet red, spiked apple cider will be available to guests at the Celtic Festival. Celtic ales, beers, and stouts will be sold, too. Mead, an alcoholic beverage produced by distilling honey, is a favorite of guests.
If you plan to attend the Chesapeake Celtic Festival:
Chesapeake Celtic Festival
October 6th and 7th, 2012
Furnace Town Living Heritage Museum
Snow Hill, MD
Adults / $15, Children 2 through 18 and military / $5
To learn more about the Furnace Town Living Heritage Museum, visit these ShoreBread pieces:
Margaret Gallagher, author of The Irish Warrior, will be signing books at the Celtic Festival. For more information about her book, check out this article: