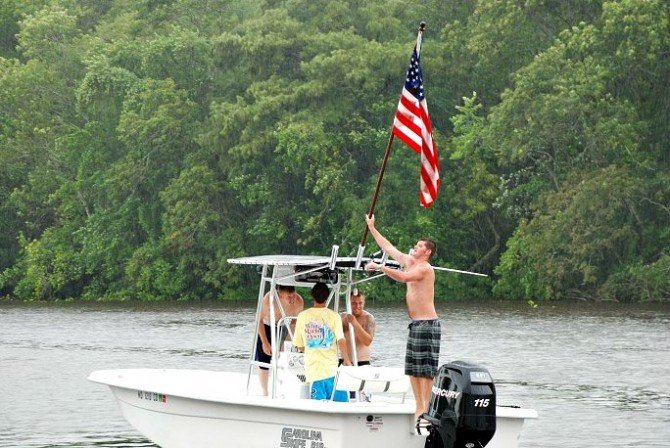 Life spent on the water can mean many things. For the watermen of the Eastern Shore—the oystermen, commercial fishermen, crabbers, clammers, and others, it's a ways and means to sustaining life on the shore, with the water and its inhabitants providing a viable industry and income for hundreds of years. It's much the same for those in the resort areas who run businesses facilitated by the large bodies of water that surround. If you happen to rent a pontoon boat, kayak or canoe, go parasailing, or deep-sea fishing; your activity is helping to facilitate someone's life on the shore.
There's a sense of beauty in motion that accompanies life on the water. Sunrises and sunsets over the ocean and bays, shore birds and wildlife grazing on the sands and in the marsh grasses, boats skimming across the water, surfers catching waves, children splashing as they wade at the shoreline—it's by and large a blessed existence.
It's can also be a volatile one. The ocean, with all its beauty and grandeur can be an unstable force to be reckoned with, bringing massive storms. Too much rain can wreck a resort, and changes in water temperature or effects of pollutants adversely affect fish and other wildlife. Thus life on the water is not a static existence; it's ever changing, inspiring, and often surprising.
| | |
| --- | --- |
| Take what's happening in Snow Hill, MD this weekend. The Snow Hill Volunteer Fire Department is sponsoring the annual Canoe Joust at Sturgis Park. | |
| At 11:00 am teams of three will battle on the Pocomoke River, hoping to be the last team standing, (or at least still in their canoe). | |
| For anyone who wishes to participate, registration begins at 10:00 am, $65 per team of three. Canoes will be provided. For those wishing to watch, food and beverages will be available for purchase. A dance will follow at 8:00 pm with entertainment by Bad Mojo. A $5 admission fee will be charged for the dance. | |
Canoe jousting? Undeniably an Eastern Shore experience, and yet another quintessential example of life on the water. Visit Shorebread all throughout the month of July as we explore life on the water of the Eastern Shore.
Photos from Snow Hill Volunteer Fire Co. Photo Gallery.