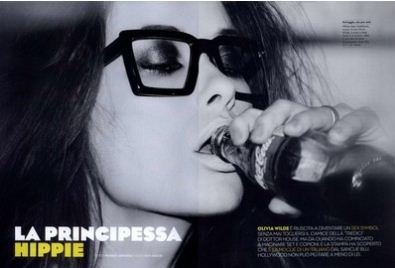 Hot. Hot. Hot. As the temperatures soar during this heat wave that's hit the Eastern Shore, it seems as though heat sometimes doesn't affect fashion. At least according to the fashionable hipster kids that I met over the weekend.
According to Urban Dictionary, as 'hipster' is defined as that below:
"Hipsters are a subculture of men and women typically in their 20's and 30's that value independent thinking, counter-culture, progressive politics, an appreciation of art and indie-rock, creativity, intelligence, and witty banter. Hipsters reject the culturally-ignorant attitudes of mainstream consumers, and are often be seen wearing vintage and thrift store inspired fashions, tight-fitting jeans, old-school sneakers, and sometimes thick rimmed glasses. Both hipster men and women sport similar androgynous hair styles that include combinations of messy shag cuts and asymmetric side-swept bangs."
What would you typically see a hipster 'gal rocking? Cut off jorts (combination of jeans and shorts), frayed crop tops, tight jeans, military styled ankle boots, straw fedoras, classic sunglasses, and vintage galore. I've put together these fashion boards to emulate hipster style. These outfits are almost identical to that of which these fashion-forward hipsters were wearing over the weekend.
The group of hipsters noted were wearing bulky leather boots with short shorts. I'm assuming that their feet were very sweaty and stinky inside of those wintery shoes on a 100 degree day. A denim vest with cutoff sleeves probably wasn't serving any purpose in the heat; only an accessory to a carefree outfit. A straw fedora hat was placed on the head of an ombre-haired 20-something that served not as a source of shade, but as pure decoration to her head.
Hipsters are hip. They like to make their own fashion rules, avoid traditional standards, and put as many mismatched items together as they possibly can. From vintage floral to heavy leather biker gear, from Aztec prints to punked out studs, and from baby pastels to military camo; you'll see it all in one outfit. It's quite impressive actually.
If you plan on mimicking this look, – don't be afraid and plan on getting some weird looks from people our parents age or older. They just don't get it. Just wear what you want and be confident. The basic idea behind dressing like a hipster is to not try what-so-ever. Just put something together without ever thinking twice about matching styles, prints, colors, or fabrics. Anything goes. Happy dressing, hipsters. Take a swing at nailing this carefree, relaxed look and embody the hipster mentality.