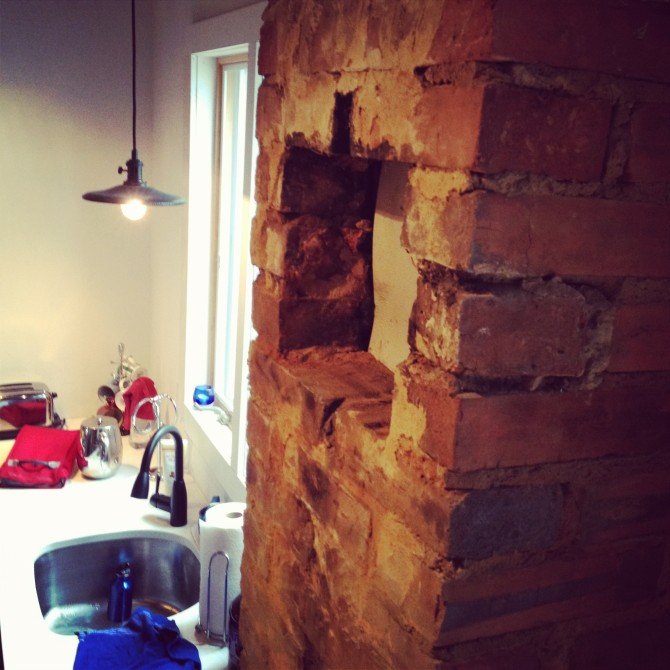 We are often asked if we have to adhere to any historical guidelines, a review commission for the Humphreys House. Fortunately we do not, even though the house is over a 100 years old and so close to historic downtown Berlin, we fall outside of any governing committee or regulations.
We do however take reverence and consideration of the wishes of the former owner as we fix things up. It is a renovation not a restoration, but still important to us to incorporate the old style and elements blended with modern ones. The kitchen is perhaps the best example of that. Brand new stark white countertops and new modern cabinets divide the original floors and the original exposed ceiling rafters. The only piece of character that links the ceiling and floor is the chimney. From the very beginning we wanted to expose the brick of the former wood burning stove. The only issue to resolve was closing off the stove exhaust hole.
Protip: When adding water to a dry mix for concrete or mortar add water small doses at a time and mix to the consistency of a thick pudding
With a small bucket of concrete patch repair and some old bricks from the yard, I cleaned out some old mortar, flashed the back side of the hole got my masonry skill on. Take a look at the pictures to see the process:
1st Step:

I used aluminum flashing to hold back the packing from the chimney, which has long been out of use.

2nd Step:

A dry mix of Concrete Patcher by Sakrete is the right size to mixup for this small repair, and will set up nicely.

3rd Step:

With a lot of old bricks around the yard from an old fence foundation, it was easy to pick out a couple that would look original. This one had the manufacturers stamp on it which gived it a little more interest.

4th Step:

The orginal job was never meant to be exposed so the joints are big and sloppy. This took the pressure off of it needing to be perfect.