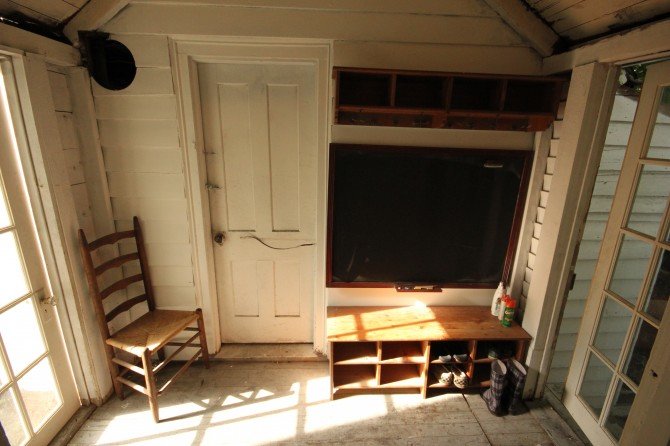 The evolution of the Humphreys House mudroom and breezeway continued this past weekend. We have taken baby steps getting this room together because it has been on the lower-end of the priority list, but we have been steadily chipping away as there was much we could do for no cost.
A fresh coat of primer paint gave the walls some life. Removing the old vent pipe from the broiler made the small space more inviting. Securing the sagging floor made it safe and sturdy enough to place our mudroom furniture in this spot.
Re-purposing a pair of French doors was an idea that I had since early renovations on the interior of the home. The doors that were originally located between the living room and dining room, would be a bit too confining in their previous location, but could work in another area. Having usable doors back on either side of the breezeway would give it the flexibility to be the indoor /outdoor space it is intended to be.
Cutting the doors down a couple inches to fit was easy because the width was already the same as the existing opening. There is still more work to be done to make this area complete, but that is the beauty and expectation of all work on a hundred year old house. It is like a painting or a work of art that is always in progress.