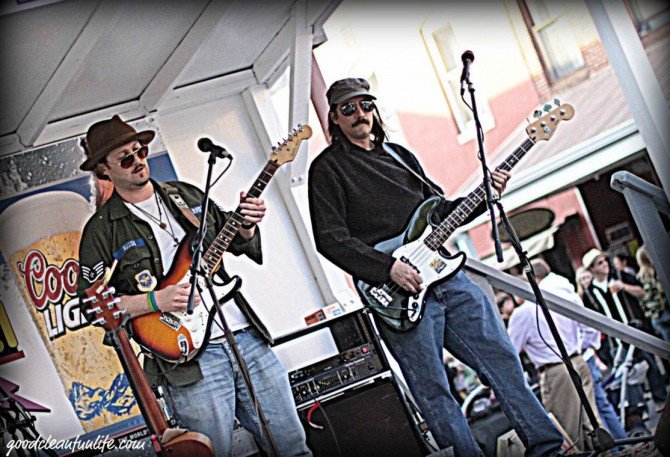 The title of this article says it all. Quite a spectrum of activities to participate in this weekend. With live music, great charity fundraisers, and adrenaline-filled races, there is something for everyone. Socially speaking, here are a few ShoreBread suggestions for this bright and sunny weekend on the shore:
The mayhem and madness is about to commence in the quaint little town of Berlin, MD. Friday is Mayday Playday. The streets will shut down, the legions of fans and flock of DJs will arrive. The beverages and delectable munchies will appear for the consuming—as will the locals and plenty of others—when the heart of Berlin is overtaken by the staff of Ocean 98; all in the name of the second annual Mayday Playday. The event starts at 5 pm and continues until 9 pm. It's also 2nd Friday Art Stroll in Berlin from 5 – 8 pm, too.
Relay for Life has been planning a fun-filled overnight event that helps bring the community together in a common goal to celebrate those who have battled cancer, remember loved ones lost, and fight back against cancer – a disease that takes too much. A planned walk is meant to be an inspirational time when survivors are invited to get together and help everyone celebrate victories over cancer. Relay for Life hopes that more lives are saved each year. To participate, visit Frontier Town Campground in West Ocean City on May 11th – 12th.
For the 13th year, Assateague Coastal Trust will be offering a selection of native flowering perennials and heirloom tomatoes to the public at their annual
Native Plant and Heirloom Tomato Sale and Celebration
at the Ward Museum of Wildfowl Art. The event will be held Saturday, May 19th, at the Ward Museum. Starting at 9 am, you can shop for flowering plants, vegetables, and talk to gardeners full of tips. More than 65 native perennials, ferns, ornamental grasses, shrubs, and trees will be available. For more information, visit the
Coastal Trust website
.
The popular powerboat races return to Ocean City this weekend. Beach-goers will be able to hear the roar of the engines as boats pass, engines whining as they leap skyward and crash through the waves and wakes left by the competition. The event begins Friday, May 11th starting at noon at the West Ocean City boat ramp and public parking lot on Sunset Avenue. On Saturday, May 12th, the boats will be on display again, at the same location, from 10 am – 6 pm to take pictures and get autographs from all the race teams. Races on Sunday begin at approximately 2 pm and follow a route from 4th Street in Ocean City to 34th Street. Over 40 boats are expected.
The Cambridge Beer Festival will take over the streets of downtown Cambridge, MD on Saturday, May 12th from 1 – 6 pm. Sample beers from Chesapeake-area breweries, including Dogfish Head, St. Michaels, Evolution Craft Brewery, Flying Dog Brewery, 16 Mile, Stillwater Artisan Ales. Plenty of food, live music, and entertainment guarantee a good time – plus the beer! $20 includes a small beer tasting glass and tastes at six breweries. The Beer Festival runs in correlation with regular Second Saturday festivities from 5 – 9 pm.
Featured photo of Bryan Russo band playing during last year's Mayday Playday by Natalee DeHart from
Good Clean Fun Life
.