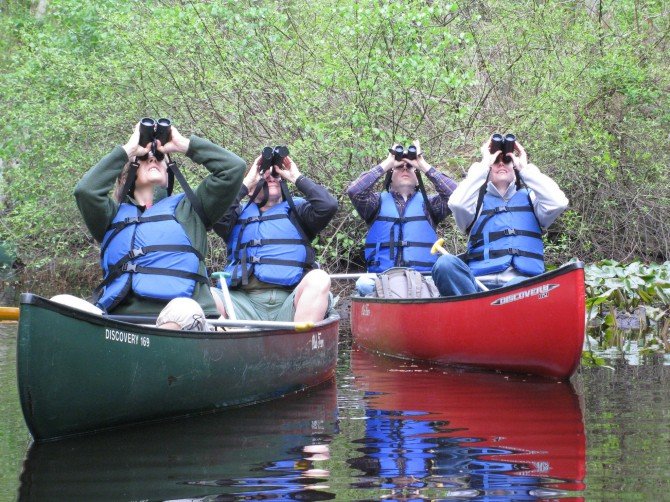 TGIF! We've been looking forward to the weekend all week long. We've got some exciting plans that include birding, walking our dogs, and looking at some bikes. What are your plans? Socially Speakig, there are plenty of options. Here are a few sugguestions:
Delmarva Birding Weekend
The Delmarva Birding Weekend celebrates the spring migration of thousands of warblers, shorebirds, waterfowl and raptors. The Weekend combines boat trips, paddling treks, and expeditions by foot, and takes place April 26-29, 2012. Participating birders will be helping birds by promoting bird and habitat conservation. For more information, please visit the Delmarva Birding website.
Fan Con: Comic Book Convention
A new convention is being held on Maryland's Eastern Shore April 28th, 2012. The Eastern Shore Fan Con will be a genre con focusing on Comic Books, Anime, Video Games and all things geeky. On Saturday from 10 am – 7 pm, the University of Maryland Eastern Shore will be filled with all things geeky. Within the Student Services Center where the convention will be held is a full movie theater for screenings and costume contest, several large meeting rooms with full AV support for panels, a separate space dedicated to video game tournaments featuring giant pull down screens and plenty of room for both players and spectators.
Bark for Life
The 3rd annual Bark for Life event will be held on Saturday, April 28th. The theme for the event is Pirates of a Cancer Free Island. Registration for the event begins at 11 am. A group dog walk starts at noon. All events take place at Frontier Town in West Ocean City. Registration is $20 for a dog and human (with a goody bag), $10 to walk a 2nd dog, $5 per human walker. There will be games, activities, vendors, food, a moon bounce, a bone drop, a diamond dig, a dog contest, and much more. All money raised will go to the American Cancer Society/ Relay for Life of North Worcester County.
Salisbury Festival
The 30th annual Salisbury Festival takes place Friday and Saturday this weekend. Downtown Salisbury and Riverwalk Park will be buzzing with carnival rides, craft beer tasting, food vendors, a classic car show, arts and crafts, and activities for children. Admission is free and free parking is available in the downtown parking lot.
Ward World Championship Wildfowl Carving Competition
The Ward World Championship Wildfowl Carving Competition takes place in Ocean City April 27th – 29th. Carvers will gather at the Roland E. Powell Convention Center. Carvers from around the world convene for this competition of contemporary wildfowl art. Featuring judging, benefit auction, classes and seminars, demonstrations, children's activities and exhibitor booths of artisans and art supplies. For more information, visit the
Ward Museum's website
.
Berlin Trail Mix
Trail Mix 2012 is an event for the community to get out and move around Berlin – walk, bike or run! Trail Mix 2012 will start at Berlin Intermediate School on Franklin Ave. Registrants will be given maps of walking, running or biking routes. This family event is a great chance to get the family outside and enjoy recreational opportunities around Berlin! For more information, contact the Lower Shore Land Trust office at 410-641-4467. Registration is $5.00 Children under 12 free! All children under 15 must be accompanied by an adult. Funds raised will be used for the trail program.
Bikes the the Beach
Ocean City's Bikes to the Beach 2nd annual Spring Rally takes place in OC and surrounding areas this weekend. All types of new exciting biker events are scheduled: bull riding, bike shows, custom builders, vendors, good, and drink specials. The event ends on Sunday, April 29th. For more information and an events schedule, visit the Bikes to the Beach website. http://www.oceancitybikestothebeach.com/