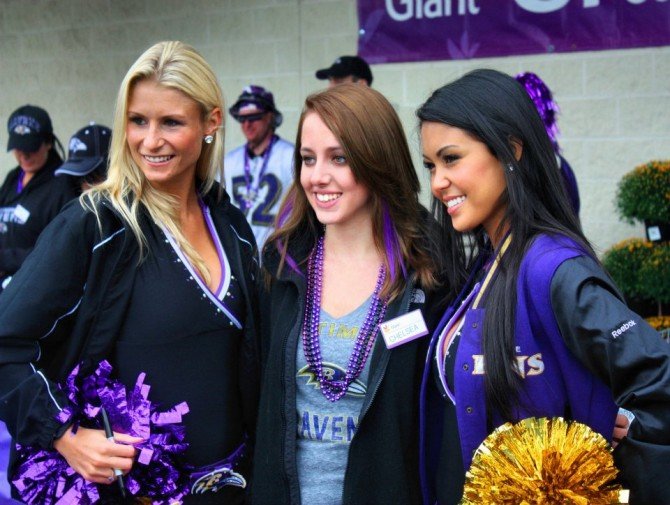 It's the weekend following a long holiday weekend… seems as though most coastal locals and vacationers just want to hang low… unless you're really into sports. The Baltimore Ravens have taken over our oceanfront town this weekend. There are paddle boarders and triathletes, too. Interested in learning more? Check out some of these hand-selected events below. Socially speaking, we wish you a happy June!
Ravens Beach Bash
Join the Ravens, 98 Rock and Miller Lite for a weekend of special events, Ravens-style. Things to take place include: Beach bonfires, Miller Lite on the beach, Bacon & Beer at the Original Greene Turtle, a Purple Friday Caravan, beach games, happy hours and more. Hang out with the Ravens at the Clarion Hotel for the Ravens Beach Bash this afternoon, Friday, June 1st
Ravens Roost Parade
On Saturday, the Annual Ravens Roost Parade will take place between 19th Street and 26th Street along Baltimore Avenue in Ocean City. More than 50 Ravens Roost members from MD, DE, and PA will be marching. Ravens players, cheerleaders, mascots, bands, floats, and more will be participating in the 2-hour parade. The parade begins Saturday at 10 am.
Snow Hill First Friday: Arts on the River
Gallery owners and merchants in Snow Hill will keep their doors open a little later than normal this Friday. From 5 – 8 pm, local shops and business will be celebrating Snow Hill's First Friday: Arts on the River. Work by local and regional artists will be on display and for sale. Live entertainment is scheduled. For more information call 410-632-2080.
Assateague Assult Sprint Triathlon
Can you run, swim, and bike? Care to participate in the Assateague Assault Sprint Triathlon this Sunday, June 3rd? The race starts at Assateague Island State Park at 7:15 am. A ½-mile swim in the ocean, then a 14 mile road bike ride, followed by a 3.2 mile run will take place. Only 500 athletes may participate. This event is part of the Ocean City Fitness Challenge. For more information, contact Chris Klebe at 443-497-4324 or Charlie McClure at 443-370-9202.
Surf, Swap, Paddle Board
Paddle board and surf enthusiasts will not want to miss the Fager's Island Surf Swap and Paddle Board Race Sunday, June 3 at Fager's Island Restaurant on 60th Street and the bay. Much like last year, the surf swap will include paddle board competitions for all levels of standup paddle boarders (SUP), throughout the day. The "Surf Swap Challenge" will begin at 9 a.m. with a five-mile elite race and 2.5-mile recreational race. These races are open to any paddle board owner and there will be prizes awarded to the top three finishers. At 2 pm the co-ed team of fun relay races will start. This will be an easy quarter-mile race open to anyone who wants to have fun and contribute to the Maryland Coastal Bays Program. Teams will be placed in heats with a maximum of six teams per heat. Registration begins at noon for the afternoon races. Registration ranges from $40-60.
Poplar Hill Mansion Tours
The Poplar Hill Mansion in Salisbury, MD will be open for free tours this Sunday, June 3rd from 1 – 4 pm. Poplar Hill Mansion is the only early building with architectural merit to survive the devastating fires which swept through the city in 1860 and again in 1886. Its architectural features were outstanding for Salisbury in the early periods of the city and are now all that remains–the only building of its kind in the city. Meet at the mansion, 117 Elizabeth Street. For more information call 410-749-1776.
OC Beach Lights Spectacular
OC Beach Lights presents a Beach Lights Spectacular on Sunday, June 3rd. The free laser lights show will be displayed on a giant five-story beach ball and is choreographed to music. Three shows will take place: 9:30, 10, and 10:30 pm. The show will be lighting up the beach at North Division Street in Ocean City three times every Sunday night through Labor Day Weekend.