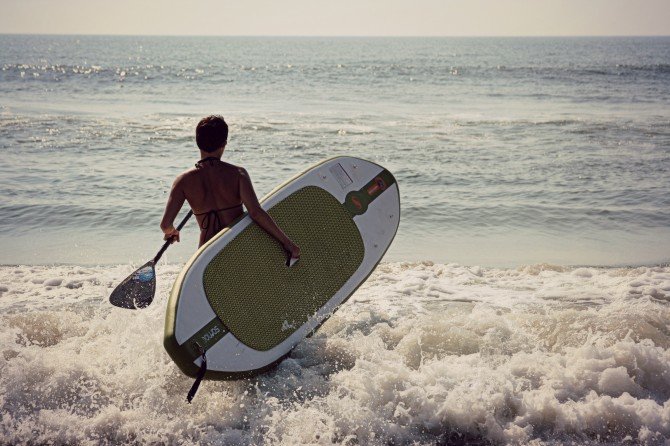 Stand Up Paddle boarding, also known as SUP, is a sport that involves standing up on a large surfboard and propelling it forward using a one-bladed paddle.
Stand up paddling isn't a strenuous workout, but it does require skills and can be challenging. Paddling in flat, still bay waters is much easier than paddling in rough, choppy ocean water. Many say that the focus on balance is much like the focus exhibited in meditation and can be very relaxing.
Over the past few years, paddle boarding has exploded into popularity on the Eastern Shore as well as in waterways across the country. It wasn't until I visited Hawaii that I became intrigued by the activity. Once I tried paddle boarding in Waikiki, I understood the attraction to the sport.
Stand up paddle boarding is completed while standing at your full height. Because you have a great vantage point atop the waves and still water, you can enjoy view of sea creatures, fish, the water below you, and the horizon. One might even feel as though they are walking on water while their feet are planted on a paddleboard propelling forward.
The main key to retaining balance is to focus on the horizon – don't look down. As soon as your look down towards your feet or concentrating on your positioning, you'll feel as though you may fall over. Gaining balance is easy to do if you begin paddling on your knees, then step up one foot at a time, or with one graceful hop. Your stance should always be shoulder-width apart, never straight-legged. By allowing a slight bend at the knees, you will find stabilization much easier.
Paddleboards have a few key pieces of gear that are mandatory and require inspection during every trip into the bay or the ocean:

The board: Board size should be based on the paddler's weight and experience. Lighter paddlers or those with more experience can choose narrow boards. Beginning paddlers should ride wider, flatter, longer boards that offer increased stability.

Paddle: Stand up paddleboards require a one-bladed paddle that has and angled shaft. A comfortable paddle is typically one that is 6" – 8" taller than you.

Fins: Each paddleboard typically has one large, centered fin or three smaller fins that aid in stability. Fins may be removable on some SUP models.

Personal Flotation Device: I've recently been informed that the U.S. Coast Guard classifies stand up paddleboards as vessels and therefore all SUPs must have a personal flotation device or lifejacket within reach while in water. Many plastic, inflatable, or cross-over kayak/paddleboards have a cargo strap in the front that is perfect for toting a lifejacket around. As always, a lifejacket is something everyone should think to have with when heading out into open water.
After many trips into both the ocean and the bay lately, I've determined that another essential part of a paddleboard should be a handle. Carrying a 12' paddleboard from the Assateague parking lot, across the dunes bridge, down the beach, and into the water can prove to be quite a chore. This task might actually be more of a workout than paddling itself. Many SUPs have been designed with a built-in handle to make carrying efficient. If your large paddleboard doesn't have a centrally located handle, I suggest carrying it on your head. In all seriousness, this makes it easier to transport a board long distances. Your body is guaranteed to feel completely rewarded after you carry your heavy paddleboard into the ocean or bay waters.
The ocean water is a mild 77 degrees in Ocean City this week. The bay water temperatures are reading just a few degrees warmer. It's the perfect time to take a chance at stand up paddle boarding. Below I've included some reminders and a list of local businesses that rent paddleboards. Try calling around and take an SUP out for a few hours.
A few paddle boarding tips to remember:

Balance with your hips, stabilize with your knees, and be sure not to lead with your head.

Keep your head and shoulders steady and looking forward. Shift your weight by swiveling your hips.

Hold your gaze at the horizon and avoid looking down towards your feet.

When forward momentum increases, stability will increase, too.

Lift your paddle blade out of the water when it reaches about 1' behind your body. Be sure to lift the paddle completely out of the water before pulling back again. This will eliminate all drag and result in unrestricted forward movement.

You're already standing on your board, you've got an advantage over surfers in the breaking waves who have to pop-up on their boards and then plant their stance. Don't forget to share the waves!
Paddle Board Rentals:
Highway 1, Fenwick Island, DE
8th Street and the boardwalk, Ocean City, MD
Route 611, Berlin, MD/Assateague Island
48th Street bayside, Ocean City, MD
Route 611, West Ocean City, MD
Photos by Ami Reist.