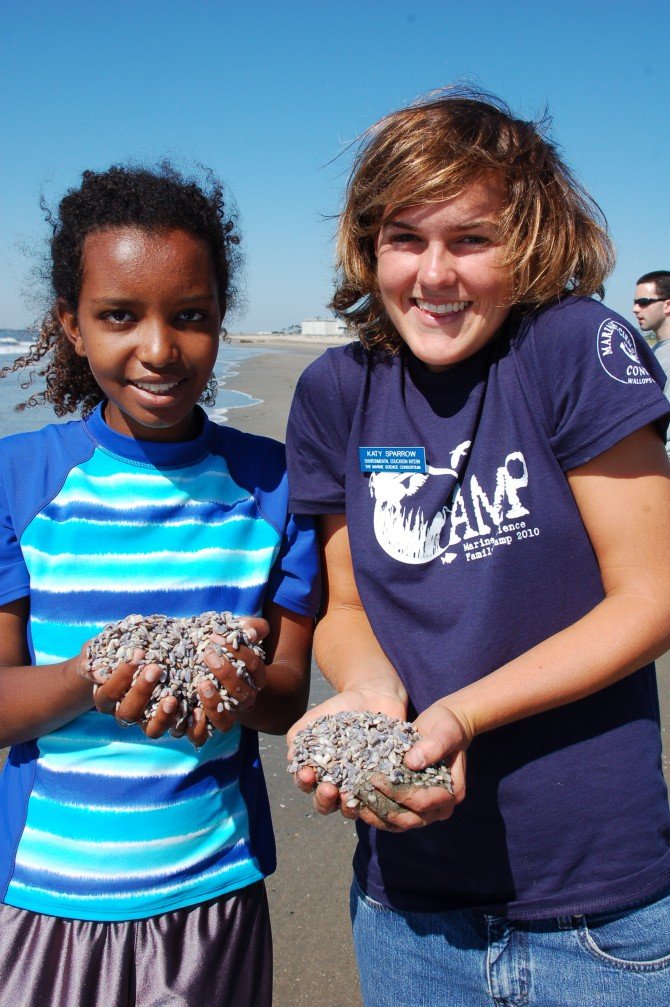 Forget those images of summer camps firmly emblazoned in our minds thanks to countless movies featuring kids run amuck at some nameless lake, while stereotypical counselors lose control, and those same kids write letters home begging to leave. Hollywood's version is nothing compared to what the Eastern Shore has to offer for summer camps. All up and down the coast, children can enjoy everything from summer stock theatre to surf camps taught by real pros. A budding scientist in your family—that's covered too, as is British soccer, arts camp, and a week where kids search for pirates and act like WWII vets defending the coast. During the month of May, Shorebread is featuring the variety of ways your kids can spend their summer days—and enjoy doing so. Join us each week as we explore the best summer camps on the shore.
First up, the Marine Science Consortium.
Some campers fly in from as far away as the West Coast to spend one week studying and exploring the coastal region of Virginia. The Marine Science Consortium offers an educational and extremely entertaining take on sleep-away camps, and day camps, too.
Initially located in Cape May, NJ, then Lewes, DE, the Marine Science Consortium was founded in 1968 by three Pennsylvania State Colleges. It moved to its current and permanent home next to the NASA's Goddard Flight Facility Wallops Island, VA in 1971. Since then, the facility has utilized the surrounding eco-system to offer hand-on learning experiences to school-age students, college students, and adults in order to teach and inspire thousands. The Virginia coast, with its beaches, bays, marshes and wetlands, maritime forests, and countless plants and animals that call this landscape home, provide the ideal outdoor classroom, allowing participants to be immersed in the experience.
The MSC acts a research facility, field trip site, college campus in the summer when visiting professors from member universities teach on-site courses, and an ideal location for summer camp. There are a variety of choices—starting with the day camps. It would seem that these camps would be populated with mostly local kids, but not so says Amber Parker.
"You would think that, but no. A lot of families plan their vacations around our camps." (Wallops Island is close to Chincoteague, Assateague, and several other popular vacation areas on the Virginia Coast.)
Parker is the MSC's Executive Director and explains the draw that brings campers from all over, not just the Mid-Atlantic region.
"There are other marine-based camps, but not around here. I think it's the hands-on nature of the programs we have. Particularly in the older kids camps, there's a scientific rigor to it. It's a way for them to get really excited and get involved in the subject."
One such camp is the popular Junior Marine Biologists for 13-15 year-olds. It's an overnight camp emphasizing fieldwork, biology, ecology, and the natural world. The students spend their days doing practical sampling while exploring the environment and their nights participating in traditional camp activities.
The older campers (the 16-18 year-olds), have the opportunity to enjoy an even more in-depth experience because of the visiting professors who teach courses simultaneously while the camps are in session. Parker explains,
"It's really great because we sometimes have spillover [from the college courses] into the summer camps. For example, one of older camps was able to participate in shark dissection with the college group."
At the conclusion of camp, the older campers exhibit poster presentations about what they have learned and the professors often attend, providing the students with even more interaction at the college level, undoubtedly better preparing them for what to expect from future college course work.
Children as young as 10 (who have completed their 4th grade studies), can spend a week at the MSC as part of the Budding Marine Biologists camp. Typically campers will arrive on a Monday. Throughout the week they will be out on the boat at least once—one of the MSC's 50-foot flat-bottomed, monitor boats—to go trawling and bring back organisms to the research lab to observe. They will be permitted access to the restricted area of the NASA Wallops Island facility, where there are rocket launches, but also beautiful protected beaches. They get to explore the forest areas and identify plants and animals. After a full day of exploring, campers participate in traditional camp activities like bonfires and ice cream socials. The week concludes with a big cookout for the campers and their families.
The MSC also offers family overnight camps as an educational experience, as well as a break from the stress of everyday life. Parker explains,
"Family camps are meant for families to be together, learn together, and explore together; to put away their electronic devices and enjoy being together. They don't have to worry about cooking, transportation, or planning a schedule—you never have to think about being entirely responsible."
Versions of the summer residential (overnight) camps are provided as day camps. There are family programs as well as the Sea Squirts Day Camp (for 5-8 year-olds), and the Marine Adventure Science Day Camp (for 9-11 year-olds.) Programs also exist for Boy Scouts, homeschoolers, Daddy and Me weekends, Grandparent and Me adventures, and spring break. Teachers are also encouraged to explore the MSC's website for field trip opportunities.
For those parents considering sending their children for an outdoor adventure they will never forget at the MSC this summer, Parker recommends making the final decision and booking by early June, at the latest. For more information on the Marine Science Consortium and all of its programs, visit here.
View the gallery for additional photos of the camps at the Marine Science Consortium.
All photos provided by the Marine Science Consortium.