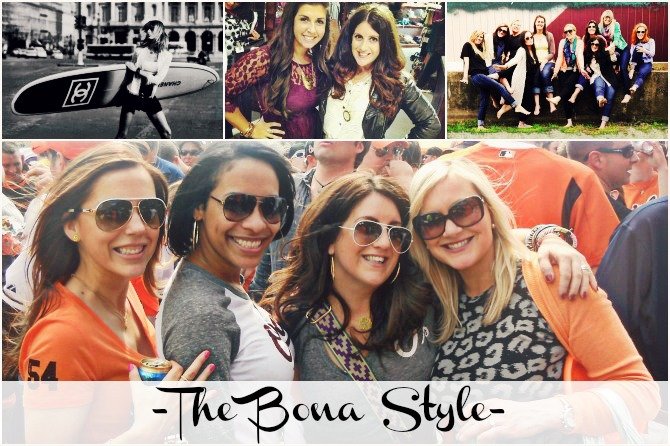 We are sad to see her go, but our fashion maven Melissa is bidding us a fond farewell this week. We at Shorebread, (and we know many of you), have loved Melissa's fashion tips, advice, and photos each week. For one last time, The Bona Style…
When I moved to Ocean City almost a year ago, I really didn't know what to expect. I think I was a little nervous about feeling out of touch with city life and wasn't sure where I would fit it. In this short time I have had the opportunity to explore the town, made it through the winter and surprisingly adapted to shore life faster then I thought I would. I would even call myself a local! Living on the shore is a lifestyle in the way you dress, in the way most people are up for anything. Yet typically it is difficult to make plans with anyone because everyone likes to keep that carefree mindset of going with the flow!
I had the great opportunity to be exposed to Shorebread and this allowed me to explore different elements of fashion each week. Sometimes I talked about what was the new "It" trend and other times I just obsessed over the things that I was loving at the moment. No matter what the topic, I enjoyed every minute of being able to have a forum to share ideas and my passion for fashion. This will be my last article, so I wanted to take this opportunity to thank everyone who has taken the time to read my posts, and especially those who have taken the time to share them with friends; I truly appreciate the support. It is hard to say goodbye to something that you love so much, but my work and life commitments need more of my attention at this time.
Of course I still want you all to stay in touch. You can follow me on Pinterest to stay up to date with my latest obsessions and fashion must haves! Now, you know I can't leave you with out giving you some fashionista words to live by, so here they are:
No matter what clothes you have on, or how fabulous your accessories are, the true test of a fashionista is how you carry yourself. You don't have to be the skinniest, or the prettiest but you always want to be the one who is wearing a smile, glowing and is happy about life. Clothes will come and go, handbags will be in and out of style—shoes…well you can never have too many! But you can always stay in fashion by being kind, humble and giving.
For the final time…
Fashionably Yours,
Melissa