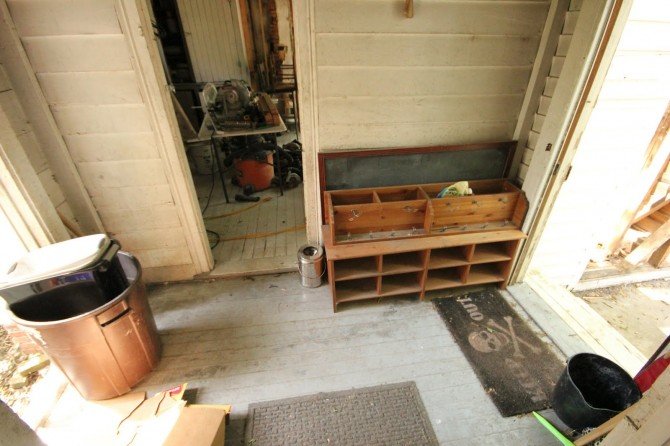 Around the time that the original wood burning stove was moved to the back stable at the Humphreys House, there was a breezeway that was built and covered to separate what would be the summer kitchen. During the warm months they would cook out next to the stable so as keep the heat of the stove out of the house that they were trying to keep cool.
A breezeway was that small room between outside and inside that was the predecessor to the modern day mud room. When we first saw the breezeway of the Humphreys House, it was mostly inhabited by spiders, some that where the size of mice. Big spiders are scary but when you find mice carcases that seem to be sucked dry by a vampire it makes you think about not spending too much time there.
So you understand when we first took ownership of the Humphreys House, the breezeway was not the relaxing, easy going place that the name suggests. It was more like a dare to pass through to get to the slightly less scary stable/back room. Adding to the creepy feel of the breezewaywas that the modern renovation included the addition of a oil fueled broiler for baseboard heat. As the years passed and the oil burned and backfired, it made the breezeway feel like an entrance to a coal mine.
This was the weekend I removed the old exhaust from the broiler to the chimney, cleaned it out and hosed it down. A portion of the floor had a floor joist that had failed and the low spot in the floor needed to be jacked up. We removed the old doors and the hardware and washed down the walls; we are now ready for paint. As we continue to expand our usable space under roof, we have plans for a new door and window that will revitalize the breezeway into a modern-day mud room.