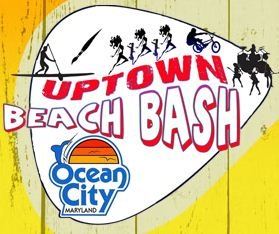 The last full weekend of August is typically the slowest weekend of the summer for businesses in Ocean City. Not this year. The Uptown Beach Bash hopes to draw thousands of visitors to the coastal town that weekend.
Roughly 30% of all OC visitors, employees, and locals leave the area to head back to school, go back to work, or just travel back home around August 15th every year. Local businesses pull employees from the streets to continue the rest of the season; they cut back hotel room rates, and offer discounts on lunches and dinners just to get people through their doors.
Businesses in northern Ocean City hope to put an end to that trend. With the introduction of the inaugural Uptown Beach Bash the weekend of August 24th – 26th, it's expected that businesses in northern Ocean City will see an upswing in visitors.
"We hope that the Uptown Beach Bash increases business by 20-30% in north Ocean City that weekend," said Steve Pappas, Event Coordinator.
Just like Pappas, Ocean City-area business leaders hope that the event helps increase the amount of people in Ocean City during the final days of August. Many sponsors of the event are businesses located in the northern most parts of Ocean City: The
Princess Royale
, the
Carousel
, the
Greene Turtle
,
Blue Ox
, and others will be hosting events for the Bash.
A weekend-long event line-up has been planned and is very enticing.
"We're hoping that people start arriving on Thursday, participate in the Paddleboard Regatta on Friday, march in the Bikini Parade on Saturday, and hang out at the Rockapalooza on Sunday. It's a whole weekend event," said Pappas.
Planned Events
On August 25th, 2012, hundreds of ladies will help break the record for 'world's largest bikini parade' as seen in the Guinness Book of World Records and help local charities while doing so. The Ocean City bikini parade will be a family-friendly event and open to women of all ages. Other planned activities are:
August 24th: Kick Off Bay Party/ Paddleboard Regatta. 1 – 5 pm. BJ's on the Water, 75th Street.
August 25th: Ocean City Bikini Parade for a Guinness Book World Record. 3 pm. Start Line Party at the Princess Royale, 91st Street. 1 – 3 pm. Finish Line Part at the Carousel Hotel, 118th Street. 3 – 6 pm. Luau & Bikini Parade Party at the Blue Ox, 127th Street. 7 pm – close.
August 26th: Local Rock-a-Palooza at Northside Park, 12 pm – 9 pm. 125th Street with 12 bands, ocean art show, kids' activities, Monster Energy BMX Stunt Shows. All free to the public.
"There have been 500-1000 girls who have registered for the bikini parade already. We want people to be aware that it's not a bikini contest; it's a bikini parade. A bikini march," said Pappas.
Women of all ages are encouraged to participate in the bikini walk through Ocean City.
"We all hope that these events happen year after year. We want this to be an event that starts out quietly and then becomes one that draws large crowds to Ocean City every year after," said Pappas.
The event coordinator also pointed out that other Ocean City events, like BJ's on the Water's Canoe Races, Ocean City's fall Bike Week, and the well-known Ocean City Lacrosse Competitions all started the same way – with local businesses self-promoting an event. These events are all well-planned, have great activities occurring related to the main event, and draw large crowds to the Ocean City area.
Register your Team or Register Individually
"We have about 10 teams already registered for the event," said Brad Hoffman, an event marketing consultant.
"Grotto Pizza, the Greene Turtle, and the Harrison Group have teams of 25 girls. That's at least 175 girls participating in the parade right there," added Hoffman.
A minimum of 10 girls is needed to register a team. Anyone can register to participate in the event individually. Team registration allows for local businesses to participate in event under their businesses name, get a committed group together, and raise funds for local charities simultaneously.
Interested parties can register on the web. All who register will be asked to donate $5 – $10 to an in-need nonprofit. 60% of all registration fees will be donated to local charities. Receiving charities include
Diakonia
(a shelter for individuals dealing with troubling life events), the
Surfrider Foundation
(an organization that protects and preserves beaches), and the
American Cancer Society
(an organization that supports individuals fighting cancer and provides funds for cancer research).
At this point in time, enough business teams have registered that individual registration has been opened for free.
If you'd like to participate, but aren't in a position to donate monetarily, please
register online
anyways. If you are able to donate, please do so. The registration process allows event planners to generate a rough estimate of individuals marching in the bikini parade.
Help support our local charities and break a world record while hanging out in your bikini on August 25th. To register for the event, or to make a donation to the above mentioned organizations, follow the link to the
Bikini Bash Registration page
. More information can be found on the
event website
or on
Facebook
.