The misty cloud that has been hanging over Delmarva was no obstacle for beer enthusiasts at this past Saturday's Good Beer Festival. Although the weather remained borderline tolerable for most of the event, crowds continued to flock to Pemberton Park when conditions became cold and blustery. The party went on with live music floating through the air accompanied by participants roaming to find the best brews.
The wide selection of craft beers available at the festival allowed participants a chance to try local breweries and well-known companies alike. Participant Andrew Cantor said he "enjoyed sampling the variety of beers because they each have a unique taste." Some creative beer flavors that were offered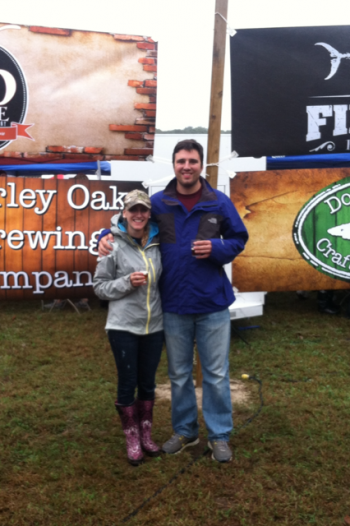 included strawberry, raspberry, and of course pumpkin. Almost every stand featured a seasonal pumpkin beer, yielding a wide range of interpretations from tasters regarding how much pumpkin flavor was put into each beer. Festival goer Tim Skarda told us, "the range of pumpkin flavors went from a little pumpkin flavor to feeling like I was biting into a pumpkin."
Another interesting flavor that intrigued tasters was the Killer Tiller produced by the 16 Mile Brewing Company's. The Delmarva native brewery created a spicy beer that incorporated ghost chili peppers into their brew. The result lead to some participants' raised eyebrows and surprised faces, but the general consensus seemed to be that  it was like nothing they had tried before.
All of the breweries were in competition for the "Taster's Choice." This event allowed each festival-goer to vote for one brewery that they thought provided the best beer. Evolution Craft Brewing Company, Evo, has won this competition for the past three consecutive years. However, this year they were bested by another local favorite, Tall Tales Brewing Company.
For those tasters who wanted to take a step back into the past, Pemberton Plantation House was also open for tours Satruday. The historical walk-through taught participants about owner Isaac Handy's wealth and life during colonial America. For example, colonial Americans slept on beds supported by rope, instead of modern springs. Over time, these ropes would become stretched out and need to be tightened to prevent sleeping in a sagging bed. The process of using wooden tools to support the bed lead to the expression "sleep tight."
With a solid turnout for this year's Good Beer Festival, we will certainly be back to taste the brews for the fifth anniversary. Rain or shine, we don't want to miss out on the wide variety of craft beers, as long as the precipitation doesn't dilute our brews.