As we arrived in Parsonsburg and stepped behind the glass doors at Tall Tales Brewing Company, (stop two on our ShoreBread beer tour) our senses were immediately overcome with the sweet, malty aroma of freshly brewed beer. Employees had just wrapped up work on a new batch and the evidence of their hard work was certainly still lingering in the air. With our senses fully peaked and our interests heightened, we were eager for our sit-down with brew master Mike Kolankowski.
One of the Shore's newest craft micro-breweries, Tall Tales first got its start in 2011 when owners of Blue Heron Landscaping decided to put their extra office space to work. After throwing around a few ideas, they decided to open a brewery, and as Kolankowski told us, "it soon took over the whole building." While offices for the landscaping company still remain in operation upstairs, the downstairs section houses a beautifully decorated bar, restaurant, and a spacious outdoor patio seating area.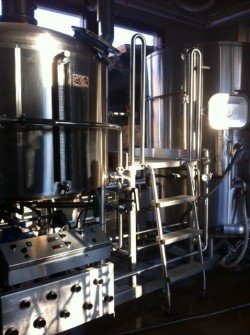 The restaurant staff and brewers work collaboratively to create delectable dishes that pair perfectly with the craft beers. Some options include wood fired pizzas, Tall Tales Wings, which are best paired with Some Beach Ale, and a Charcuterie and Cheese Plate that can be shared with friends and paired with Sasquatch Imperial Stout.
Recently, the brew master and chef have been working together to create a dish that exudes beer flavor. However, by using their regularly brewed beer, the dish did not produce the expected taste, yielding a rather bitter flavor. To extract the correct beer essence, Kolankowski has had to condense the original beer recipe that is normally used to create almost 3,000 gallons of beer, into a machine that would only produce two gallons. Stay tuned for the results, as the Tall Tales masterminds are still in the trial-run phase of testing.
You may be surprised to find that the beer is not served in bottles at the brewery, due to the fact that they do not have any in-house bottling equipment. Instead, the on-site brews are put into kegs before it is served to the customers. This is also how Tall Tales' beer was transported to the Good Beer Festival this October where they won the Taster's Choice Award. Although they did not win at their first appearance at the festival in 2012, Kolankowski told us that "we were extremely popular and almost sold out."
Outside of the brewery, Tall Tales is able to bottle and sell their beer, which is available in various locations. Kolankowski explained, "we are trying to distribute everywhere, from Delmarva, Pennsylvania, and Northern Virginia." The bottled Tall Tales beers are actually bottled by Peabody Heights Brewery in Baltimore. For a number of reasons, the beer must be brewed on site in Baltimore, namely because the flavor of the beer would depreciate. Instead, Peabody Heights has its own copy of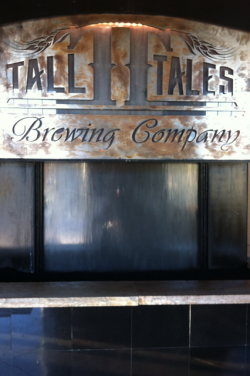 Tall Tales brewing recipe.
While drinking some varieties of Tall Tales beer, you may notice a stronger hop taste. This is because one Tall Tales executive has a special appreciation for hops. As Kolankowski told us, "one director always says if it's not dark and hoppy, it's not beer."
If you're not familiar with hops, they are the flower of an evergreen plant called Ptelea trifoliata, and are similar to pine cones. They can be added as pellets or as whole cones in various stages of the brewing process to add a bitter flavoring. The bitterness balances out the sweet flavors of malt and other grains that are in the liquid. Kolankowski explained that 90% of hops used in the U.S. come from Washington State, where the colder year-round temperatures provide a suitable environment for evergreen trees. Other hops come from northern regions of Europe, where they have been cultivated since they were first used in 800 A.D.
Varieties of beers at Tall Tales include crowd favorites, including IPA's, Stouts, and American Ales, but with an extra helping of that Tall Tales personalized flavor. A list of their brews with descriptions can be found on their website. When naming their beers, Tall Tales often uses character names in folklore. For example, there is a Paul Bunyan APA, Sasquatch Imperial Stout, Bonny and Clyde DIPA, Johnny Apple Seed apple-flavored beer, and our personal favorite, the Cinderella pumpkin-flavored beer. Tall Tales also hopes to expand their arsenal of beers to include a charity beer, with proceeds to go to volunteer firefighters.
We wrapped up our tour with some new-found beer knowledge and a growler to enjoy at home. With a constant flow of great tasting beers with creative twists, we can't wait to come back to try some of Tall Tales' future brews as well as their beer and entrée pairings.
See you at the next stop on the beer tour…