Sharks, turtles and fish galore! On our most recent Day Trippin' adventure, we met some aquatic friends from the Eastern Shore. While visiting family on the other side of the bridge recently, we couldn't help making some time to take a day trip to the National Aquarium in Baltimore. Among the multitudes of aquatic exhibits, we got an up close look at animals that are native to our shores but often remain hidden from us underwater. Seeing these creatures in a simulated environment allowed us to gaze in wonder at the beauty and mystery found under the sea and right off of our shoreline.
The first exhibit seen when entering the aquarium is called The Black Tip Reef which features dozens of multicolored fish, small sharks, and giant stingrays. This display that once solely featured stingrays, now houses an entire ecosystem of animals. One of the main attractions to the Black Tip Reef is a 500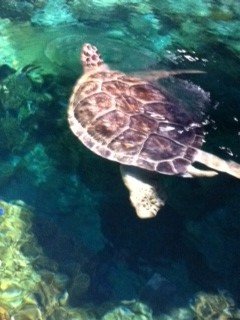 pound Green Sea turtle named Calypso. This enormous creature surprises guests by periodically rising slowly from the depths of the pool and swimming for a short period of time near the surface before diving back among the coral.
While Calypso may seem content gliding through the clear water, her past tells a sad tale. In 2000 a stunned and lost Calypso was found off the coast of Long Island with a badly infected right flipper. Once rescued, it was determined that the turtle's flipper would have to be removed in order to save her life. Although Calypso now swims with only three flippers, she lives an easy life compared to the difficulty she would have faced in the wild.
Past the reef exhibit, guests move upstairs to view an enormous array of fish and aquatic displays. Each floor hosts various animals from all over the world, providing a look into a wide range of species and their habitats. Some attractions included clown fish, sea horses, and an octopus that would spray ink if flash photography was used. We even saw a black stingray with white polka dots the size of pennies.
Making our way through the building, we also encountered the shark tank that held many ocean predators circling their tanks with teeth barred. Although we have to admit that this exhibit gave us the chills, we really had nothing to worry about since we learned that more people are harmed every year by cows than by sharks.
One of our favorite exhibits was the dolphin tank. While we had just missed a dolphin show where trainers display the wonderful flips and tricks their slippery friends can perform, we did get a peek at their underwater world. Below deck in the underwater viewing seats, we watched as four dolphins swam continually past our window. They almost seemed to be smiling as they put on their own show for us, swimming upside down and whizzing past our eyes. One dolphin was definitely showboating when she jumped in the air and flipped without a trainer's command.
Another display in a different part of the building was the Jelly Invasion, which held an assortment of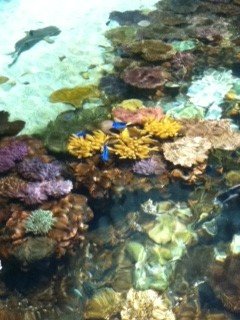 colorful jellyfish. Some of the most interesting species in these tanks included the upside down jellyfish, which lies on the ocean floor with its tentacles pointed up in order to catch its food. It looked more to us like something we would unfortunately step on while wading through the shore break. There were also blue, mushroom-shaped jellyfish that turned brown as they grew older. Other interesting facts that we learned were that jellyfish consist of 95% of water and have no brains.
We also discovered that there are not only fish at the aquarium, in fact some of the most interesting displays were not of fish, but of reptiles. The rainforest exhibit showcases a warm tropical environment surrounded by trees, birds, and monkeys. Past this exhibit are many other rainforest dwellers known as the poison dark frogs. These tiny creatures portray extremely vibrant colors that range from the strawberry poison dart frog, named for its bright red color, to blue, neon green, and yellow frogs. They may look cute, but some of the frogs can kill you with only a touch.
In the Australia exhibit, visitors take a walk on the wild side as they are surrounded by dozens of birds and bats. We loved hearing the different bird calls coming from parrots and kookaburras as well as the colorful plumage on each bird. One little bird hopped on the ground so close to us that we could have reached down and touched it if we had wanted.
The reptiles in Australia were also amazing. There were pythons, large lizards, and many different kinds of turtles. We were lucky enough to be at the crocodile tank during feeding time and watched as a brave employee walked through the cage and tossed food straight into the crocodiles' mouths.
After spending several hours exploring native and exotic creatures at the National Aquarium, we were ready to head back to the Eastern Shore to discover some of our local fish, reptiles and birds in the natural habitat. With the new year officially here, we look forward to getting outdoors and enjoying all that the Eastern Shore has to offer.
Until next time…