Berlin, Maryland is teeming with such a varied history within its veins. It has been a home to families, a place for entertainment, and even a movie set on more than one occasion. But did you know that many, many years ago Berlin housed the Independent Order of Odd Fellows or IOOF Lodge? Well, you're about to find out…
So who are the Odd Fellows? It's hard to tell exactly when, where, and how the Odd Fellows originated, however they are reported to have a strong connection with England and The Manchester Unity. In 1819, the North American Odd Fellowship was founded in Baltimore, Maryland. At the time, Baltimore was in the unfortunate grasp of severe, widespread sickness and death and populated by an ill-fated number of orphans. Consequently they were in true need of the Odd Fellows' duty which entitled them, "to visit the sick, relieve the distressed, bury the dead, and educate the orphan." Visiting the sick and lending a hand to neighbors in that time was a bold thing to do. Thus, the name "Odd Fellows" developed; for indeed they were very odd.
Similar to the well-known Masons, the Odd Fellows too have their symbols, mysteries and untold stories. The Odd Fellows' symbol featured 3 linked chains representing Friendship, Love and Truth.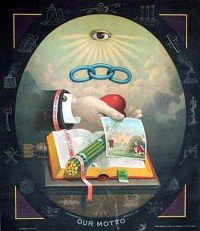 The symbol usually appeared above the doorway to the entrance of the meeting area. Unlike the Masons, the IOOF was the first to be accepting of women into their ranks. Soon after, the Odd Fellows made their way to the Eastern Shore.
The same building that once was home to the IOOF lodge here in Berlin (South Main Street), is now home to local yarn shop A Little Bit Sheepish and upstairs Re:Fresh Media. The building's architecture was ideal for an IOOF lodge, as they had a tendency to build their lodges with retail space on the first floor to accumulate rent which in return paid for the meeting space above. Ritual practice was not uncommon in the lodge and apparently finding human remains buried deep within the plaster walls of the former lodges wasn't uncommon either. While renovating the plaster walls and installing more modern dry walls in the historic buildings of former lodges, skeletons that were once sealed sometimes fell out. There was even a human skeleton discovered neatly laid out in a drawer in a former lodge in Easton, Maryland (now Clay Bakers).
Many former IOOF lodges are reportedly haunted and after speaking with yarn shop owner Brenda Trice of A Little Bit Sheepish and notifying her of the human remains buried within other former lodge walls, we took note that the walls within her shop were still plaster. "Maybe it wouldn't be a good idea to open the walls," yarn shop employee Vickie jested. "Especially since we rent," Brenda jokingly stated. Neither has she experienced anything unusual yet, Brenda explained. "We have only been here about a year and a half so who knows, something can happen at any time. Maybe the spirits are peaceful and stay quite because they enjoy all the colors and textures of the yarn." A Little Bit Sheepish certainly has many beautifully colored and calming varieties of yarn, so this may be true. One thing is for sure: Brenda and other Berlin residents may never know— until those plaster walls are stripped down, of course.