What a great weekend we had at Pork in the Park! ShoreBread was so anxious to join in the festivities (never having been to the event before) that we were in attendance from the very beginning, making it in time for the ribbon cutting ceremony. Once there, Rick Pollitt, County Executive introduced the event to "the land of pleasant living, situated between the Chesapeake and the Ocean," and with that, the great barbecue competition on the Eastern Shore was officially opened to the public.
Pork in the Park was started 11 years ago when local barbecue enthusiasts asked Wicomico County to host an event that gave them an outlet for their culinary passion. The festival was soon sanctioned by the world's largest barbecue enthusiast's organization, the Kansas City Barbecue Society, making it a competition for only the best to come out and cook.
While this cook-a-thon is taking place, a carnival like setting surrounds it. With vendors, rides, food (lots of great food) and a beer beach, featuring local brewery Tall Tales, we were more than entertained. Among the other local vendors, some of our favorite breweries and wineries were also in attendance like Bordeleau, Layton's Chance and Evo Brewing Company. We chowed down on a pulled pork sandwich from another Eastern Shore native, Adam's Ribs and enjoyed every bite.
ShoreBread caught up with Bear Bones BBQ, one of the 40 teams vying for the KCBS prize. The team is made up of four neighbors from the Shore who started cooking together at block parties and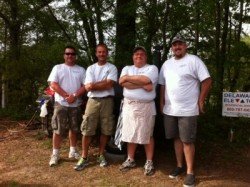 graduation celebrations and from there, decided to cook competitively. Bear Bones uses a Kentucky style sauce with lots of vinegar and very little tomato or ketchup. We're told it has a nice bite. We did get to sample some of the team's highly prized bratwurst and it was delicious.
Bear Bones BBQ is contending in all four areas of the barbecue competition; chicken, brisket, ribs and our favorite, pulled pork. In order to cook up all of these tasty meals, chefs need to start preparing the food at very early hours, since several dishes (like roasting a whole pig) can take up to eight hours to prepare. As a result, many teams like the Bear Bones are also camping out alongside their equipment to get a head start on their yummy concoctions.
Other than the great food, there was also live music for carnival goers to enjoy including up-and-coming country star, Charlie Worsham who has shared the stage with Brad Paisley, Taylor Swift and Miranda Lambert. On Saturday, Jimmie Van Zant, a relative of a Led Zeppelin member, took the stage playing music inspired by his musical family.
We came back on Sunday to witness the ultimate professional wing eating competition which featured the hot dog eating world champion, Joey Chestnut. In 2007, Chestnut defeated the previous champion Takeru Kobayashi who had decimated earlier records. However, when Chestnut came on the scene that fateful year, he consumed 66 hot dogs in twelve minutes, beating Kobayashi's 61. The same her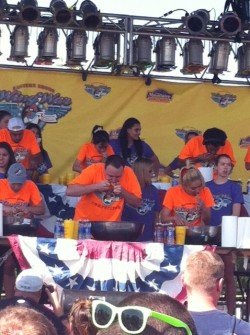 o of the hot dog came out to compete at Pork in the Park again this year to face some of the  best eaters in the world. We were even lucky enough to come in close contact with Joey when he stepped into the crowd for a picture!
Chestnut faced off against opponents who held records in 27 other food competitions like sweet corn, peas, cranberry sauce, tiramisu and popcorn. Three of the contenders were very thin, in-shape and petite women, one of which had beaten Chestnut 2 other times.
As the lively emcee finished the count down, the eaters' filled their faces with the first of many chicken wings. Countless mouths resembled chipmunks during the competition and many different techniques were shown off. One competitor liked to flick her hair back as she swallowed, we can only guess to have gravity help her out. Chestnut used a spiral-like motion while he devoured each wing while others simply pulled the meat off and shoved it in their mouth.
When all was said and done, many different winners of the various wing championships were announced. The recipient for the "Taster's Choice" best wings, which consisted of the best wings from area restaurants went to The Deli in Salisbury; a Salisbury student won second place in the amateur wing eating contest and finally Chestnut won once again. He set a Delmarva record of 221 wings in 12 minutes, second place only ate 198 in comparison.
Pork in the Park did not disappoint and while we're sure we will never try out our own eating skills in a contest (although we're pretty sure we could win a crab eating competition) we can't wait to see what's in store at next year's event.