Bacon and Goat Cheese Stuffed Sweet Pepper Poppers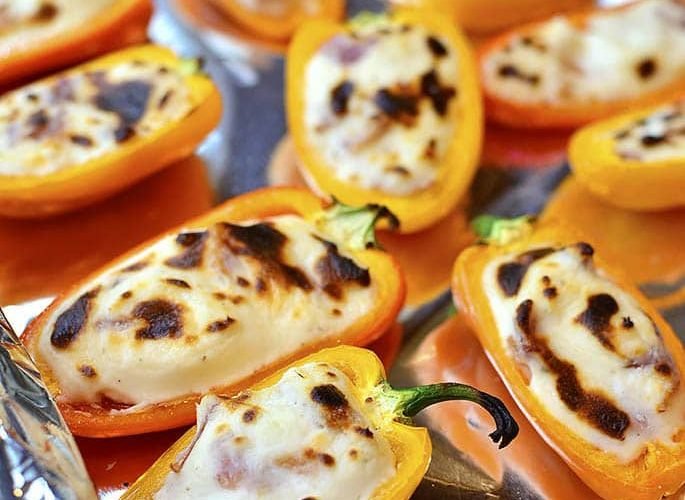 Nutrition Facts
Yield: 16
Calories: 70
Fat: 4.5g
Saturated Fat: 2.5g
Cholesterol: 15mg
Protein: 4g
Carbohydrates: 4g
Fiber: 1g
Sodium: 340mg
Ingredients
8 sweet mini bells (sliced in half lengthwise then seeded)
4 ounces goat cheese (softened)
4 ounces low-fat cream cheese (softened)
1/4 teaspoons garlic powder
1/4 teaspoons onion powder
salt
pepper
4 slices cooked bacon (crumbled and divided)
1/2 cups pepper sauce (sweet chili)
Directions
Place oven rack in center position then preheat broiler. Cover a baking sheet with foil then arrange sweet pepper halves on top.
In a medium-sized bowl stir together goat cheese, cream cheese, garlic and onion powders, salt and pepper until smooth. Add 3/4 of the bacon then stir to combine. Fill pepper halves to the top with the cheese mixture, smoothing with your finger or the back of a spoon.
Broil for 3-4 minutes watching very carefully to avoid burning then transfer poppers to a platter and sprinkle with remaining bacon. If cheese doesn't begin to brown within a minute or two, move rack up (you just don't want to overcook the pepper halves.) Serve with sweet chili sauce for dipping.