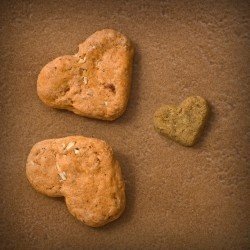 INGREDIENTS:
1 ½ cup Oat flour
1 ½ cup Brown rice flour
1 tsp. Cinnamon
1 Cup Rolled oats (not instant oats)
½ cup Oat bran
1 Egg
½ cup Bananas (mashed)
½ cup Water
You're four-legged canine companion will really love you if you bake some of these delicious treats. Even if you're not normally a good baker, these treats will taste great to any dog. You will have all the tails wagging when you deliver these snacks. These treats are made with oats and bananas and are a healthy treat (& something to do with those quickly browning bananas rotting on your kitchen counter. Most ingredients can be purchased in the 'natural and organic' section of local grocery stores.
Preheat oven to 350 degrees. Combine all ingredients together and mix thoroughly to create dough. If dough does not form easily, add more brown rice flour until doughy. The dough should not stick to your hands or the mixing bowl. Put some flour on a clean, flat surface. Using a rolling pin, flatten the dough. With a heart-shaped (any shape will do, really) cookie-cutter, cut shapes out of dough. Place flattened treats on a greased cookie sheet.
Bake 18-22 minutes or until edges are golden brown.
Let treats cool completely on a wire rack. Store at room temperature in a loosely covered container. Do not place in a plastic baggie – they will grow mold if there is condensation in the container.
Share your yummy baking skills with your dog… they'll be begging for more!