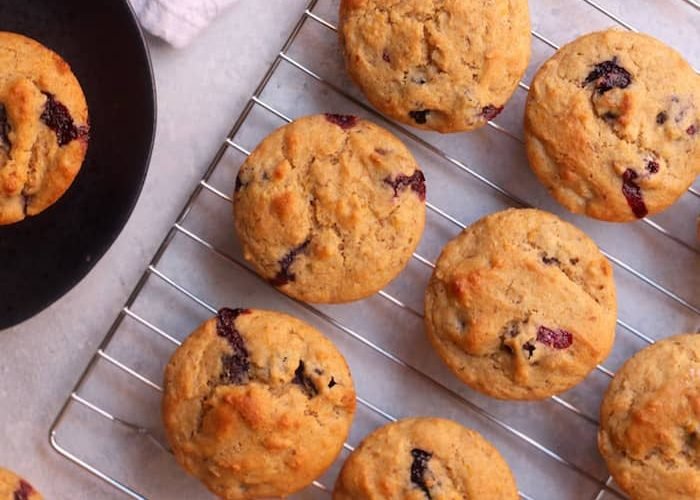 Nutrition Facts
Yield: 15 Muffins
Calories: 150
Fat: 4.5g
Saturated Fat: 0.5g
Cholesterol: 0mg
Protein: 3g
Carbohydrates: 24g
Fiber: 2g
Sodium: 190mg
2 tablespoons ground flaxseed (+ 6 tbsp water, can sub 2 eggs)
1 1/2 cups whole wheat flour
3/4 cups all-purpose flour
1 tablespoon baking powder
1/2 teaspoons salt
1/2 cups pure maple syrup (use ¾ cup for sweeter muffin)
1/2 cups vanilla yogurt (choice, use coconut or almond yogurt for dairy-free)
1/4 cups olive oil
1/2 cups fresh orange juice (I used navel oranges)
1 tablespoon orange zest (packed, zest of 2 oranges)
1 teaspoon vanilla extract
1 cup fresh blueberries
Directions
Preheat oven to 400F. Spray a 12-cup muffin tin with cooking spray.
Place ground flax and water in a small bowl. Stir and set aside.
Measure flour by spooning it into the measuring cup and leveling it off. Combine flours, baking powder, and salt in a medium bowl. Place blueberries in another bowl and toss with 2 tbsp of the flour mixture to avoid sinking.
In another mixing bowl, combine flax mixture, maple syrup, olive oil, yogurt, orange juice, orange zest, and vanilla. Fold wet mixture into dry mixture until just combined. Don't over-mix! Fold in blueberries.
Spoon mixture ¾ way full into greased muffin tin. I baked the extra batter in a small dish for a little breakfast bake!
Bake for about 16-18 minutes or until a fork comes out clean. Cool for 20 minutes before carefully transferring muffins to a wire cooling rack to cool completely. I like serving mine with butter or Earth Balance and a drizzle of honey!