Mexican Spaghetti Squash Casserole With Avocado Salsa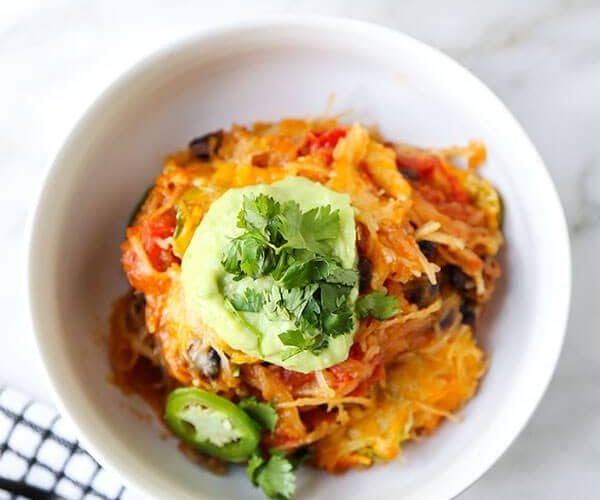 Nutrition Facts
Yield: 4
Calories: 390
Fat: 21g
Saturated Fat: 7g
Cholesterol: 30mg
Protein: 17g
Carbohydrates: 47g
Fiber: 10g
Sodium: 640mg
Ingredients
3 pounds spaghetti squash (sliced in half lengthwise, seeds scraped with a spoon)
1 packet taco seasoning
14 1/2 ounces roasted tomatoes (drained)
2/3 cups canned black beans (rinsed and drained)
1 cup shredded cheese (or more, I use a Mexican 4-cheese blend)
3 jalapeno chilies (fresh, slices, optional)
1/4 cups cilantro leaves (fresh, chopped, optional)
salt
pepper
2 tomatillos (medium, peeled and chopped)
1 garlic cloves (peeled and chopped)
1 avocado (large, peeled, pitted and chopped)
2 tablespoons fresh lime juice
Directions
Preheat oven to 375ºF.
Place spaghetti squash on a microwave safe plate or other microwave safe container. Place the cut side down (skin facing up). Microwave on high for 10 minutes.
Take the spaghetti squash out of the microwave and shred with a fork. If the squash is still hard, microwave for another 2-3 minutes, or until tender.
Transfer the shredded spaghetti squash to a large bowl.
Add taco seasoning and gently toss.
Add fire roasted tomatoes and black beans and gently toss.
Brush a 1.5 quart casserole dish with a little olive oil (you can also use cooking spray).
Pour the spaghetti squash mixture into the casserole dish and spread evenly.
Sprinkle cheese and add a few slices of fresh jalapeño on top and bake for 20-25 minutes, or until cheese has melted.
Meanwhile, make the simple avocado salsa by blending all the ingredients in a blender until smooth. Season with salt if needed.
Take spaghetti squash casserole out of the oven and top with fresh salsa and cilantro. Serve immediately.
Note: If you cannot find tomatillos, mash the avocado with a fork and season with a squeeze of fresh lime and a little salt.