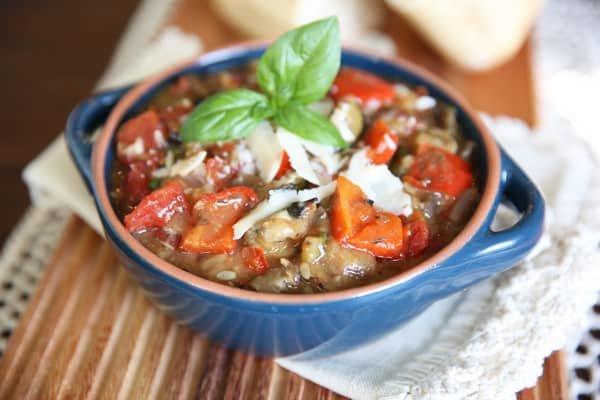 Nutrition Facts
Yield: 9
Calories: 180
Fat: 10g
Saturated Fat: 1.5g
Cholesterol: <5mg
Protein: 5g
Carbohydrates: 20g
Fiber: 6g
Sodium: 160mg
Ingredients
2 pounds eggplant (cut into 1/2 inch pieces)
3 zucchini (about 8 oz each, quartered lengthwise and cut into 1 inch pieces)
2 red bell pepper (stemmed, seeded, and cut into 1/2 inch pieces)
2 onions (roughly chopped)
6 tablespoons extra-virgin olive oil
1 tablespoon sugar
4 garlic cloves (minced)
2 teaspoons herbes de provence
28 ounces diced tomatoes (drained)
1/4 cup all-purpose flour
salt (and pepper)
1 tablespoon balsamic vinegar
1/4 cup grated parmesan cheese
1/4 cup fresh basil (chopped)
Directions
Adjust oven rack 4 inches from broiler element and heat broiler. If you have different heat settings available on your broiler, set it to medium.
Line 2 rimmed baking sheets with foil.
In a very large bowl, combine egg plant, zucchini, bell peppers, onions, olive oil, sugar, garlic, and herbs de Provence. Toss until combined.
Divide vegetables evenly between prepared sheets and spread into a single layer. Broil, 1 sheet at a time, until vegetables begin to brown, about 10 minutes (or faster, if your broiler has only one heat setting and it's super hot!) While the veggies are broiling, turn them a couple times during the cooking process to evenly cook them. Transfer broiled vegetables to slow cooker and add tomatoes.
Stir flour, 2 1/2 teaspoons salt, and 1 teaspoon pepper into vegetables in slow cooker.
Cover and cook until veggies are tender, about 4 hours on low.
Stir in balsamic vinegar, Parmesan, and basil. Season with additional salt and pepper to taste and serve.