Slow Cooker Turkey Bolognese Sauce with Spaghetti Squash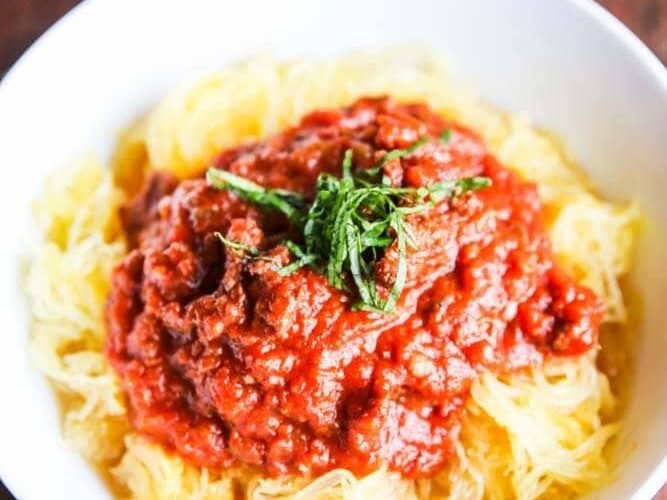 Nutrition Facts
Yield: 4
Calories: 510
Fat: 24g
Saturated Fat: 5g
Cholesterol: 85mg
Protein: 23g
Carbohydrates: 42g
Fiber: 9g
Sodium: 1080mg
Ingredients
2 tablespoons olive oil
1 cup onions (finely chopped)
1 cup carrots (finely chopped)
1 cup celery (finely chopped)
5 cloves garlic (minced)
1 tablespoon dried oregano
1/4 teaspoon crushed red pepper flakes
1 pound ground turkey
2 tablespoons tomato paste
1 cup dry red wine (or chicken broth)
3 cups tomato sauce
1 cup water
sea salt
ground pepper
1/4 teaspoon ground nutmeg
fresh basil (finely shredded, for serving)
2 squash (spaghetti)
olive oil
Directions
Sauce
Heat olive oil in a large skillet.
Add onion, carrot, celery, garlic, oregano and red pepper flakes, and sauté until aromatic, about 3-4 minutes.
Add ground turkey and cook until no longer pink.
Add tomato paste and cook another 2-3 minutes to develop flavor.
Add red wine and scrape up any browned bits.
Transfer to slow cooker and add tomato sauce, water, salt, pepper and nutmeg. Cook on low for 8 hours.
Spaghetti Squash
Preheat oven to 375 degrees.
Cut spaghetti squash in half and scoop out seeds with a large spoon.
Place face down on an oiled sheet pan.
Bake 30-40 minutes until a knife can be inserted into squash easily.
Using a fork, scrape out spaghetti squash.
Divide among serving bowls. Top with Bolognese Sauce. Sprinkle with shredded basil.
Chef:
Jeanette's Healthy Living