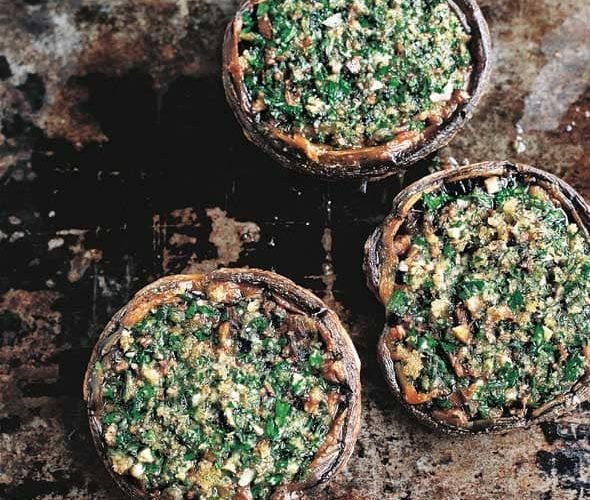 Nutrition Facts
Yield: 6
Calories: 150
Fat: 13g
Saturated Fat: 2.5g
Cholesterol: <5mg
Protein: 4g
Carbohydrates: 6g
Fiber: <1g
Sodium: 105mg
Ingredients
6 portabello mushroom
1 tablespoon chopped fresh mint (roughly)
2 tablespoons flat leaf parsley (roughly chopped)
1 ounce parmesan cheese (finely grated)
1 garlic cloves (finely grated)
3 tablespoons bread crumbs
1/3 cups extra-virgin olive oil
Directions
Preheat the oven to 350°F (176°C).
Slice the mushroom stalks from the caps. Place the mushroom caps on a baking sheets, gills facing up. Finely chop the mushroom stalks.
In a bowl, combine the mushroom stalks, mint, parsley, Parmesan, garlic, and bread crumbs and mix thoroughly. Using a spoon, divide the mixture evenly among the 6 mushroom caps, gently packing the mixture down with the back of the spoon.
Drizzle a little olive oil over each mushroom, then bake for 15 to 25 minutes, until the surface of the stuffing is golden. Serve warm.