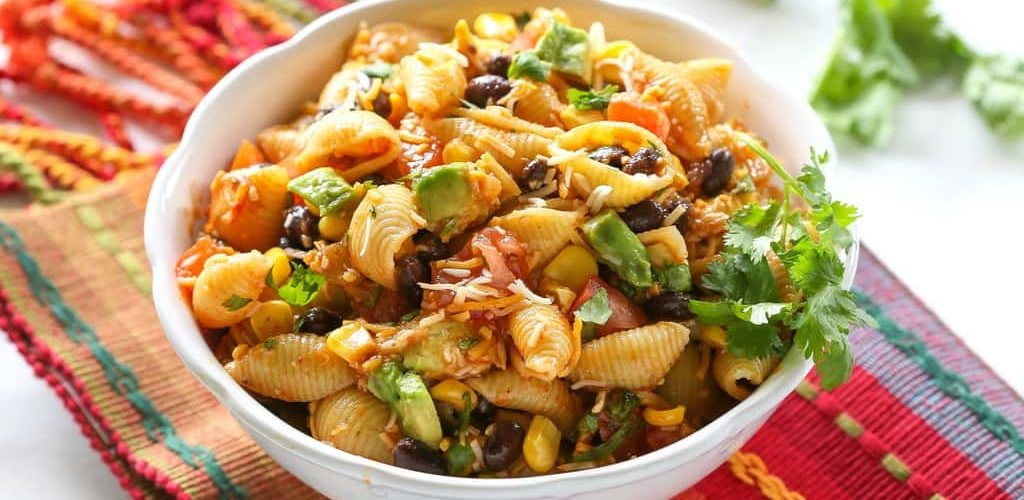 Nutrition Facts
Yield: 13
Calories: 320
Fat: 13g
Saturated Fat: 1.5g
Protein: 9g
Carbohydrates: 44g
Fiber: 8g
Sodium: 410mg
Ingredients
1 pound pasta shells (medium, or other pasta shape)
15 ounces black beans (rinsed and drained)
2 cups corn (frozen, canned, or fresh, cooked)
1/2 cups cilantro (finely chopped)
2 tomatoes (seeded and diced)
1 1/2 cups salsa
1/3 cups olive oil
1/4 cups lime juice
2 tablespoons taco seasoning (Old El Paso)
2 cloves garlic (minced)
salt
pepper
2 cups Mexican cheese blend (shredded)
3 avocado (firm but ripe – diced)
Directions
Cook pasta according to package directions. Drain and cool.
In a large bowl, add the cooled pasta, black beans, corn, cilantro, tomatoes, and salsa. Toss gently.
In a small bowl, whisk together the olive oil, lime juice, taco seasoning, and garlic. Pour over pasta and toss to coat. Add salt and pepper to taste. Chill until serving.
Right before serving, toss in the cheese and avocado. Add your favorite taco toppings like sour cream or crushed tortillas.
Chef:
The Girl Who Ate Everything