Veggie Pizza Spaghetti Squash Boats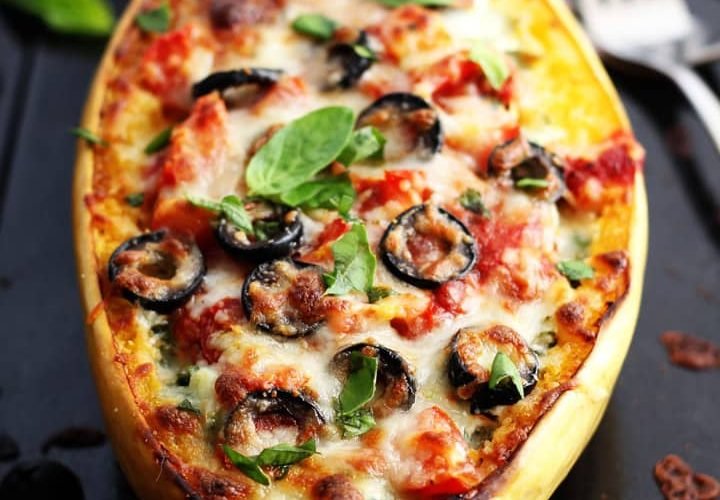 Nutrition Facts
Yield: 2
Calories: 470
Fat: 25g
Saturated Fat: 7g
Cholesterol: 35mg
Protein: 19g
Carbohydrates: 63g
Fiber: 3g
Sodium: 630mg
Ingredients
1 spaghetti squash (medium, about 32 ounces, washed and dried)
1 tablespoon olive oil
1/4 teaspoon fine sea salt
1/8 teaspoon black pepper
1/2 cup ricotta cheese
8 ounces kale (frozen chopped, thawed and squeezed dry)
1/2 cup fresh basil (loosely packed, finely chopped)
1 teaspoon italian seasoning
1/4 cup pizza sauce (jarred)
1/3 cup grape tomatoes (sliced)
2 tablespoons sliced black olives
1/2 cup shredded mozzarella cheese
Directions
Preheat the toaster oven to 425F and line a baking sheet with foil.
Use a sharp knife to stab the squash a few times all over and microwave* for 5 to 8 minutes on high until a knife easily slides into it.
Slice open the squash lengthwise and scoop out the seeds. Drizzle each half with oil and sprinkle with salt and pepper.
Place squash onto the prepared baking sheet with the insides facing down. Roast for 20 to 25 minutes until soft and tender.
Remove squash, flip over and cool for 5 minutes. Leave toaster oven on but reduce temperature to 350F.
While the squash cools mix together the ricotta, kale, basil and Italian seasoning.
Carefully, scrape the squash into strands with a fork leaving the skin intact. Divide ricotta equally among squash bowls and mix with squash.
Spread pizza sauce over each bowl and top with tomatoes and olives. Sprinkle with mozzarella.
Return squashes to the toaster oven and bake uncovered for 10 minutes to warm the ingredients.
Turn on the broiler and broil for 2-3 minutes until the cheese is bubbly and browned.
Serve warm topped with fresh basil leaves.