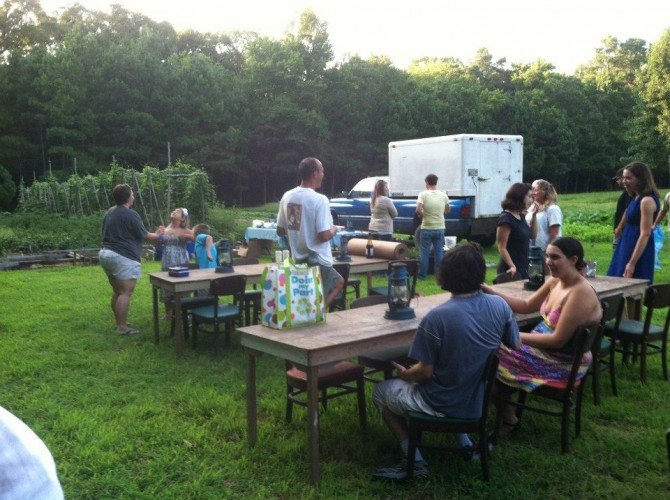 Join us for an evening of enjoyable, fresh, locally grown and produced dinner on the 3rd Saturday of the month at 5 pm. The Eleven Forks dinner is a potluck event. Please bring a dish and RSVP by the Friday prior. Nonalcoholic beverages will be provided. Eleven Forks dinners are always family friendly.
The creation of Eleven Forks dinners was a product of the chaos I create for not being very well organized. The truth of the matter goes something like this…
Last year I came across Planets Around the Sun, a music group from Maine who were booking dates on their Community Detour 2011-2012 . They were going to tour the US playing, staying, and working on farms across the country. I got in touch with them and they were set to play at The Good Farm. This was probably set up in May; a time of the year that I have great aspirations and okay organizational skills. It seemed like a great idea at the time. I didn't know if I was going to have them play at the 611 location or at my house in Berlin. They were set to play whatever the 3rd weekend of July was. Sometime that week I started panicking that there were no arrangements whatsoever about having any sort of an audience for them to entertain. So, I decided to invite people to my house for a potluck dinner and music. The potluck portion was a financial necessity and the music was because I had an idea but I didn't do any strategic planning to support the idea.
I wasn't sure what to expect for our dinner. I didn't do such a hot job of inviting people because it was the middle of the growing season. I no longer had great aspirations or any organizational skills and I really hoped that everyone I invited showed up. I had two farm helpers, Eddie and Adelle, staying with me at the time. They set up tables in my side yard and when they set the table, only could find 9 forks. Adelle scoured their tent and found fork number 10 and I searched my car finding fork number 11. Luckily, we had only eleven people at dinner and joked that we could never have more than eleven because we only owned eleven forks.
Last July was the first year I attempted a month of no processed food. Adelle made a tomato cucumber salad from our produce and also zucchini lasagna using ricotta cheese I had made. A couple brought two different types of bread rolls; one was provolone and caramelized onion and cheddar and broccoli. Someone baked an incredible no shortcut cheesecake. Another guest showed up with a hot potato and green bean pesto salad. My neighbor brought a loaf of freshly ground and baked bread. Burley Oak Brewery wasn't quite open yet and their brewer showed up on a motorcycle with a bag of tortillas and organic salsa.
Eleven people sat at the table with the most incredible food. It was incredible because it was all made from scratch. After dinner we listened to a couple acoustic songs performed by Ian and Caitlin on the back porch. My house is out pretty close to the middle of nowhere. I enjoyed over hearing from those who don't live in the middle of nowhere how cool it was to be out in the sticks.
The evening was a celebration of food and good company. It was almost perfect. It was so almost perfect that we decided to do it the following month, again on the third Saturday. Anyone who made it to the first dinner had a standing invite each subsequent month. The other invitations rotated to different friends in the Berlin area who I thought would enjoy such a format.
I rotated invites from that point on so that the dinner party would not ever grow stale. I was very amused when a dinner guest showed up in August bringing a bushel of crabs and had so much fun he said he was never going to miss a dinner and to please make sure I always told him when the next dinner was. I laughed thinking he doesn't know how this works. He may or may not be automatically invited next time. And, the crab wins. Anyone who has been to a dinner this year I am sure has had opportunity to enjoy John Henry's crabs or ceviche or sushi style tuna. Several times I have overheard friends say, "Man, I can't wait until the next dinner."
I have not turned down anyone who wants to return to a dinner. However, I have grown leery of again inviting those who promote to be big community proponents, but do not want to take part in our dinner. We have grown in size, hosting about 25 at each dinner this year.
The Good Farm has huge plans for Mariners' Country Down, a country location on the shore, and would like to use The Eleven Forks dinner as a way of introducing and reintroducing the property to those in the community.
Want to attend the Eleven Forks dinner this Saturday? Here's some information:
Photos by Heather Basmajian.