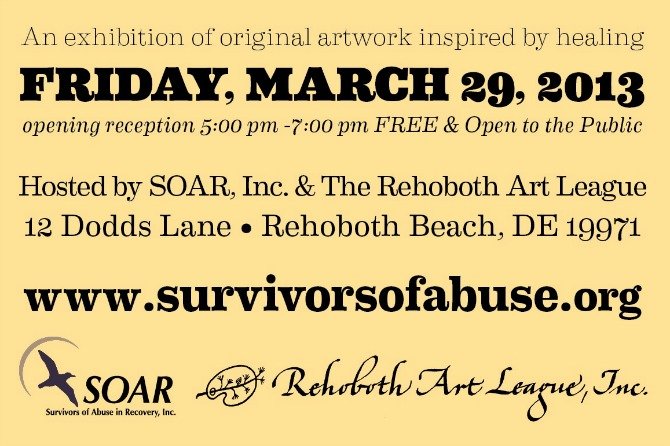 The Rehoboth Art League and SOAR, inc. are partnering to host experiential classes integrating healing and art. Participants will engage in painting, drawing, pottery and self-portrait creations while learning and discussing art's influence in soothing the soul and flexing the mind and body. Through the centuries art has been an influencing force in healing, whether physical, emotional, mental or spiritual. These classes will be held throughout the month of April and will be led by Delaware community artists and mental health practitioners. Pre-registration is required as space is limited. To participate visit the Art League's website.
Class locations have been relocated to All Saints Rehoboth on Olive Avenue in Rehoboth Beach Delaware. The Town of Henlopen Acres recently sent notification to the Art League, SOAR, and their instructors warning that if the classes were held on the Art league's campus all participants would be subject to citations. "We were very surprised the town would threaten to fine the students and instructors," says Rehoboth Art League Board President, Diana Beebe. "Since our beginning we have held art classes based on many different themes and have partnered with a host of organizations to bring interesting and engaging classes to the area." SOAR Executive Director Valerie Marek indicated in a letter to Tom Roth, the Acres Town Manager "SOAR and RAL are nonprofit organizations that represent large communities of women, men and children that overlap and are known to one another through their respective arts and healing journeys. Thus: our venture together. We plan to continue our partnership with RAL because they are a good match for SOAR in bringing our mission forward." The Rehoboth Art League and SOAR, Inc are grateful for the hospitality of the Reverend Max Wolfe and his staff at All Saints Episcopal Church.
In conjunction with the classes, a special exhibition entitled Art is Healing: Healing is an Art will be on display in the Chambers building at the Rehoboth Art League. A public opening of the exhibition will be held on April 5th at 5pm will feature the works of over 20 artists. The show is curated by Stephanie Silver, Chairperson of the Tatnall Upper School Fine Arts Program in Wilmington, DE.
The Rehoboth Art League is a membership-based teaching and exhibiting non-profit arts organization dedicated to encouraging and preserving the arts in Delaware. It is funded, in part, by a grant from the Delaware Division of the Arts, a state agency dedicated to nurturing and supporting the arts in Delaware, in partnership with the National Endowment for the Arts.
Incorporated as a 501 (c) (3) organization in 1992, SOAR is a statewide recovery program, which provides counseling, referral, and education services to adult, adolescent and child survivors of sexual abuse and assault, their non-offending partners, and non-offending family members. SOAR also provides outreach programs to community organizations and businesses. More than 1000 adults, adolescents, children, and their families residing in Delaware and the surrounding counties in Pennsylvania, New Jersey and Maryland utilize SOAR's services annually. SOAR is the only treatment agency of its kind in the Delaware/Mid-Atlantic region.