Beer Roasted Chicken Wrapped in Bacon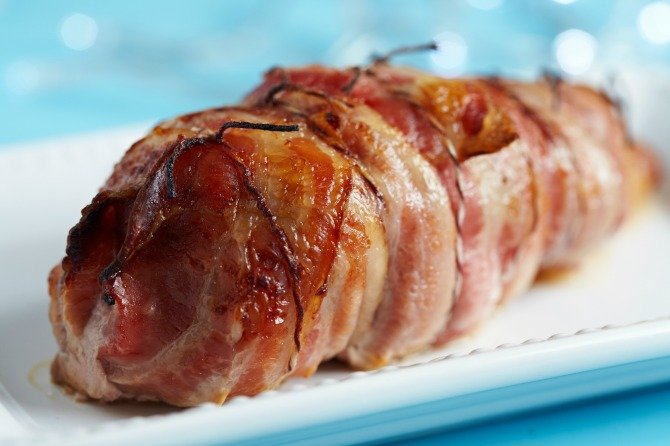 INGREDIENTS:
1 (2- 3 pound) whole chicken
1 teaspoon dried oregano
1 teaspoon garlic powder
1 tablespoon onion powder
1 teaspoon paprika
1 teaspoon ground ginger
1 teaspoon dried sage
1 teaspoon sea salt
1 tablespoon freshly ground black pepper
2 cloves garlic, smashed
1 (12-ounce) bottle/can beer
1/2 pound bacon
Preheat oven to 450 degrees. Wash chicken with cold water and pat dry with paper towels.
Mix dry ingredients in small bowl. Rub 1/2 of the ingredients on inside cavity of chicken. Gently peel skin away from chicken and rub mixture into meat of chicken. Open beer can and pour out about 1/2 cup. Drop the garlic cloves into the beer can. Place chicken, open end down, over the beer can to insert the beer into the cavity. Place chicken, standing up, in large sauté pan. Place 1/3 of the bacon in the top cavity of the chicken and drape the remaining 2/3 of the bacon down the outside of the chicken. Pierce the bacon to the chicken with toothpicks.
Place chicken in the oven for 10 minutes and then lower temperature to 325 degrees and cook for another hour, or until the internal temperature in the thickest part of the thigh reaches 165 degrees on an instant-read thermometer.
This recipe was submitted by Ty Wittelsberger. As featured on BMore Chix.