Swiss Chard Collard Greens with Bacon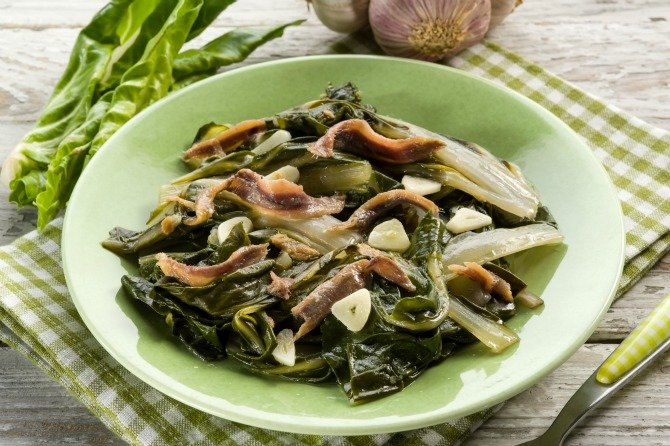 INGREDIENTS:
1 bunch (about 2 pounds) Swiss chard (can be substituted with kale or collard greens)
1/2 pound applewood smoked bacon, diced (can substitute smoked turkey leg)
4 whole garlic cloves, peeled
1.5 quarts chicken or vegetable stock
1 teaspoon kosher salt
1 teaspoon fresh ground black pepper
2 tablespoons lemon juice, plus the zest of one lemon
1/4 cup extra virgin olive oil
Cut away the tough yellow stalks and stems from the chard. Discard any leaves that are bruised or yellow. Rinse greens in salted water. Wash the chard thoroughly in fresh water, being sure to remove any grit. Dry thoroughly.
Heat a large, deep skillet over medium heat. Cook the bacon or turkey until lightly crisp and the fat has rendered. Add the garlic and saute for 2 minutes to soften. Add the chard to the bacon and garlic. Toss well.
Pour in the stock and cook for 45 minutes to 1 hour, until the wilted and tender. Take care not to overcook. Season with salt and pepper. Garnish with the lemon juice and lemon zest and drizzle with the olive oil.
Recipe shared by Robert Banksy, owner of Banksy's Cafe in Baltimore, MD. As featured in the Baltimore Sun.