Black Bean, Arugula + Poached Egg Stuffed Sweet Potatoes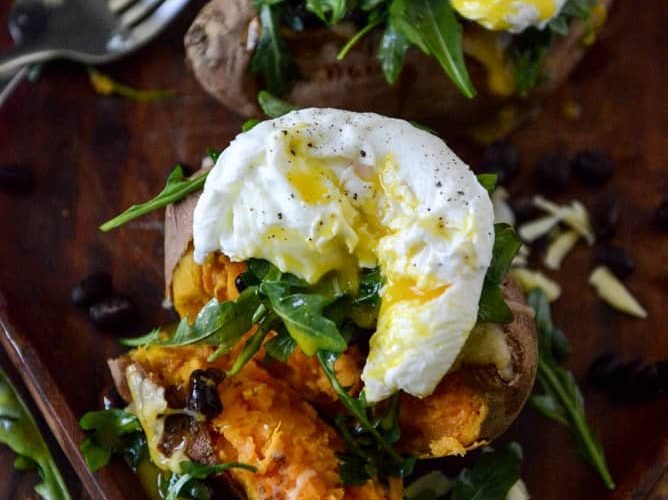 Nutrition Facts
Yield: 4
Calories: 360
Fat: 15g
Saturated Fat: 7g
Cholesterol: 245mg
Protein: 20g
Carbohydrates: 39g
Fiber: 6g
Sodium: 750mg
Ingredients
4 sweet potatoes (medium)
1 cup black beans
4 ounces fontina cheese (freshly grated)
2 cups arugula (fresh)
1 teaspoon olive oil
1/2 lemon (juiced)
4 eggs (cooked as desired)
salt
pepper
Directions
Preheat oven to 425 degrees F.
Poke sweet potatoes with a fork and then place on a baking sheet.
Bake for 30 minutes, then reduce the heat to 350 degrees F and bake for 30-40 minutes more.
Remove and let cool slightly, about 5 minutes.
Carefully slice down the center of the potato, pushing the skin open.
Stuff each potato with an ounce of fontina, then top equally with black beans.
At this time you can pop it back in the oven for a few minutes to melt the cheese.
Season arugula with olive oil and lemon juice, then add a sprinkle of salt and pepper.
Add it on top of the black beans, then add your cooked eggs on top of the arugula.
If desired, you can cook the eggs when the sweet potatoes have a few minutes left so they are all ready to go.