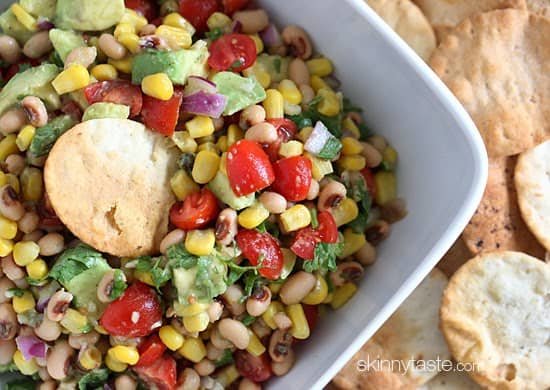 Nutrition Facts
Yield: 4
Calories: 500
Fat: 10g
Saturated Fat: 1.5g
Protein: 28g
Carbohydrates: 79g
Fiber: 6g
Sodium: 350mg
Ingredients
15 ounces black-eyed peas (canned)
2 cloves garlic (crushed or minced)
3 tablespoons fresh lime juice (from about 1 1/2 limes)
1 tablespoon olives (extra virgin)
1 teaspoon cumin
1 pinch crushed red pepper flakes
1/2 teaspoons kosher salt
1 cup corn (cooked, fresh or frozen, thawed)
1 cup cherry tomatoes (quartered)
1/4 cups red onion (minced, finely diced)
1/4 cups cilantro (chopped)
1 jalapeno chilies (seeded and diced, optional)
1 avocado (medium, diced)
Directions
Rinse and drain the black eyed peas in a colander.
In a large bowl, combine the garlic, lime juice, oil, cumin, crushed red pepper, and salt and mix well.
Add the black-eyed peas, corn, tomato, red onion, jalapeno if using and cilantro; mix well and refrigerate at least 20 minutes. When ready to eat, gently mix in the avocado and serve right away.