Breakfast Stuffed Mushrooms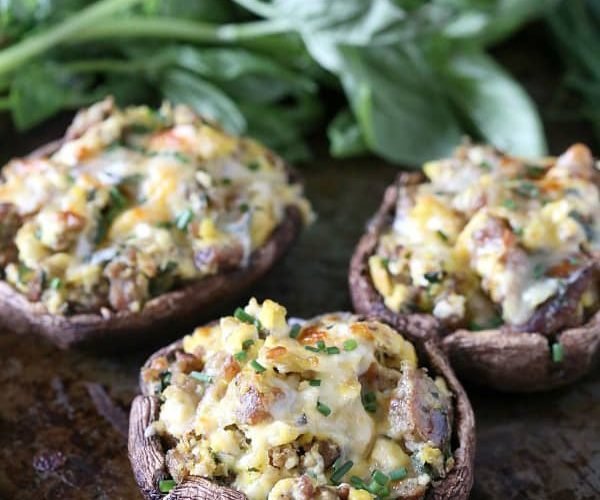 Nutrition Facts
Yield: 4 Servings
Calories: 430
Fat: 35g
Saturated Fat: 12g
Cholesterol: 280mg
Protein: 24g
Carbohydrates: 6g
Fiber: 2g
Sodium: 1180mg
Ingredients
4 portobello caps (large)
1 tablespoon olive oil
7 ounces mild sausage (Jones Dairy Farm, patties)
4 large eggs (scrambled)
1/4 cups basil (diced)
2 tablespoons chives (diced)
kosher salt
pepper
1/2 cups shredded sharp cheddar cheese
Directions
Preheat oven to 400 degrees and line a baking sheet with parchment paper.
Remove stem and gills from the underside of the mushroom. Make sure there is enough space to fill them up with eggs.
Rub the inside of the mushroom with a little bit of olive oil and roast in the oven for about 5-7 minutes. Just let the mushroom soften slightly. They still need to keep their shape.
While the mushrooms are cooking start browning the sausage and breaking up the patties with your spatula. Once the sausage is browned stir in eggs, basil and chives.
Stir together as you cook so the eggs and ingredients all scramble together.
Once the eggs are fully cooked add it into the mushroom caps. Pile it one high since you are serving one cap per person.
Sprinkle each cap with 2 tablespoons shredded cheese and add back to oven for 5 minutes to help melt the cheese.
Serve immediately.