Za'atar Chickpea Stuffed Sweet Potatoes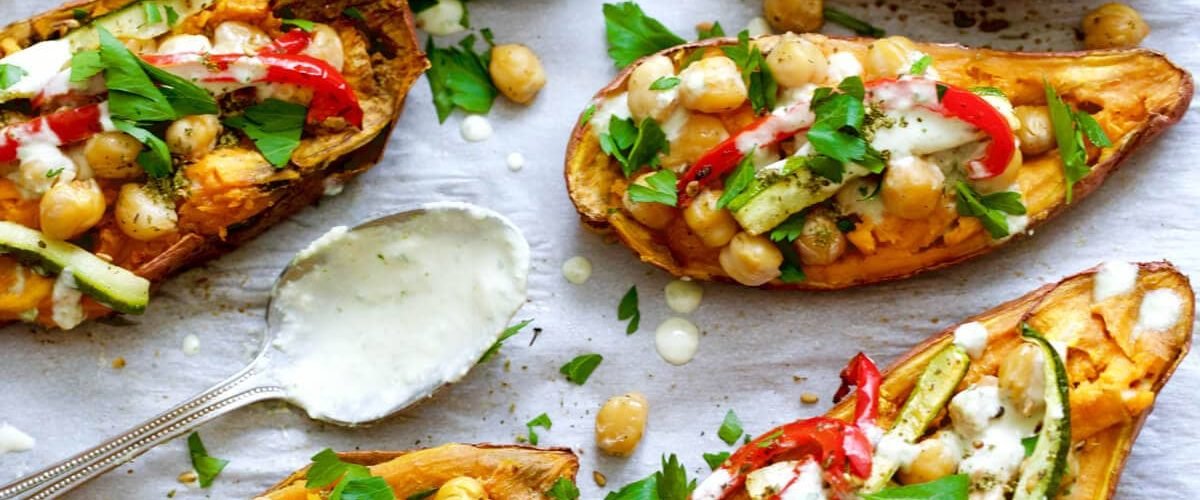 Nutrition Facts
Yield: 3 Servings
Calories: 370
Fat: 15g
Saturated Fat: 5g
Protein: 11g
Carbohydrates: 51g
Fiber: 10g
Sodium: 560mg
Sweet Potatoes
Ingredients
3 sweet potatoes (medium)
1 cup water
1 tablespoon + 1 teaspoon coconut oil
1 cup chickpeas (cooked)
1 zucchini (small, sliced into 1/2″ strips lengthwise)
1/2 red bell pepper (medium, sliced into 1/2″strips lengthwise)
2 teaspoons za'atar
1/4 cups fresh parsley leaves (chopped)
Directions
Preheat the oven to 400F
Slice each sweet potato in half lengthwise
Puncture holes into sweet potato with a fork, and place onto a baking dish (cut side up)
Add water to the bottom of the baking dish, and drizzle 1 tablespoon of coconut oil on top of sweet potatoes
Bake for 45-60 minutes, or until you can easily stick a fork through the potatoes
Up next, let's roast our chickpeas & veggies. Add the chickpeas, zucchini and pepper to a baking sheet
Drizzle 1 teaspoon of coconut oil onto them, and sprinkle 1 teaspoon of za'atar atop
Pop that into the same oven for 25 minutes. Remove and set aside once done
Once the sweet potatoes are ready, mash up the insides with a fork, and stuff with the roasted chickpeas & vegetables
Add another teaspoon of za'atar on top, and drizzle the homemade tahini sauce (see below) for a finishing touch.
Top with fresh parsley and enjoy!
Tahini Sauce
Ingredients
1/4 cups tahini
1/3 cups water
1 tablespoon scallions (tops, chopped)
1 teaspoon garlic powder
salt (to taste)
Directions
Add all ingredients (except salt) to a food processor
Blend until smooth, and add salt to taste
Chef:
Food Heaven Made Easy