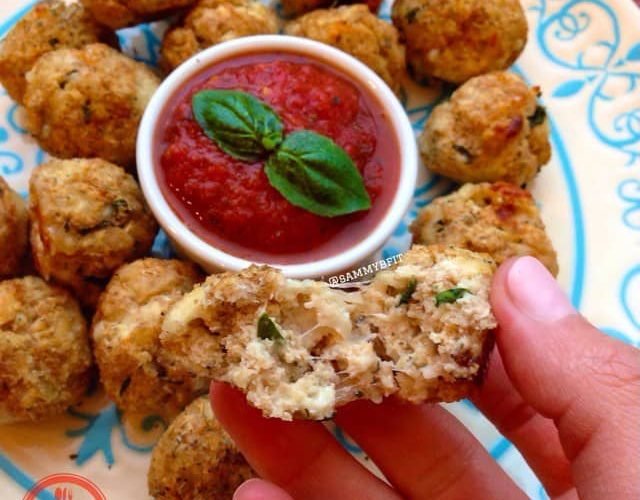 Nutrition Facts
Yield: 4
Calories: 60
Fat: 2g
Saturated Fat: 1g
Cholesterol: 5mg
Protein: 5g
Carbohydrates: 6g
Fiber: 1g
Sodium: 290mg
Ingredients
1 1/2 cups grated cauliflower (approximately 1/2 large cauliflower head)
1 teaspoon minced garlic
2 clove
1 cup shredded mozzarella cheese
1/4 teaspoon dried oregano
3 large egg whites
salt
pepper
1/4 teaspoon dried rosemary
6 basil leaves (chopped fine)
1/2 teaspoon smoked paprika
1/2 cup panko breadcrumbs (Ians All Natural)
Directions
Preheat oven to 425 degrees F. Line a baking/cookie sheet with parchment paper and place baking racks on top. Spray the racks with non-stick spray.
Start by cutting your cauliflower in half. Measurements are based on using a large head of cauliflower. Cut the leaves and end of the cauliflower. Cut the cauliflower into small florets and toss into a food processor and process until the cauliflower reaches a rice/mashed potato look. It should be processed fine. The finer it is, the better the end result will hold together.
Scoop the cauliflower into a cheesecloth by placing the cauliflower into the center of the cheesecloth, pulling the edges up, twisting to close and squeezed as much liquid as possible out of the processed cauliflower. It should have the look of rice/mashed potatoes.
Place the processed cauliflower into a microwave safe bowl and cook for 4-6 minutes, stopping to stir halfway through.
Once cooked, add the remaining ingredients and stir well.
Using a tablespoon and a half tablespoon, scoop the bites into 1 1/2 tablespoons in size, and roll into balls. Place evenly apart on the prepared racks and bake for 20-23 minutes. At 20 minutes in, remove from the oven & rotate the bites. Place back into the oven for remaining 2-3 minutes.
Chef:
With Peanut Butter on Top