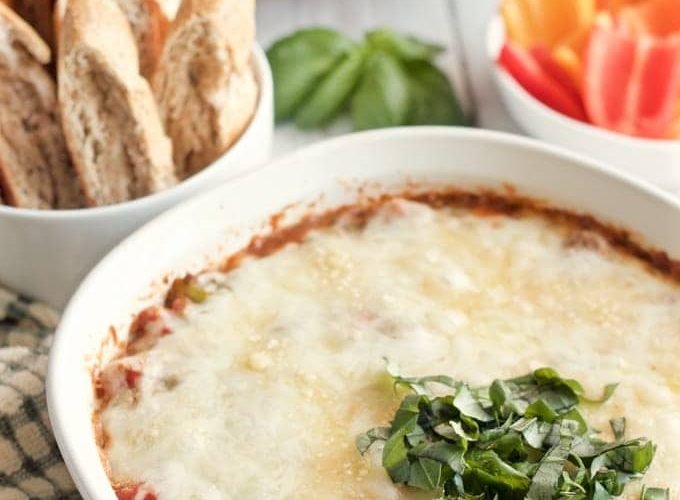 Nutrition Facts
Yield: 7
Calories: 90
Fat: 2.5g
Saturated Fat: 1.5g
Cholesterol: 5mg
Protein: 5g
Carbohydrates: 12g
Fiber: 2g
Sodium: 230mg
Ingredients
29 ounces tomatoes (diced Hunt's, I like to use one regular diced and one fire-roasted diced but you could do two of either variety)
2 handfuls spinach leaves
1 green bell pepper (or red, chopped small)
1 cup mushrooms (chopped small, I use white button mushrooms)
1 teaspoon dried oregano
1/2 teaspoon dried basil
1/2 teaspoon garlic powder
1/4 teaspoon crushed red pepper flakes (optional)
1/4 teaspoon salt
1/4 teaspoon black pepper
1 1/2 cups shredded mozzarella cheese (divided)
1/4 cup shredded parmesan cheese
basil
bell pepper
baguette
Directions
Preheat oven to 375.
Drain both cans of tomatoes very well. Place one can in a blender or immersion blender cup. Add spinach and blend until well mixed.
Add the tomato-spinach mixture to a large bowl with remaining can of tomatoes and remaining ingredients, using 1/2 cup of the mozzarella cheese.
Mix until well combined and pour the veggie mixture into a greased 2-quart baking dish. Top with the remaining 1 cup of mozzarella cheese and the Parmesan cheese.
Bake at 375 for 20-25 minutes, until the dip is bubbly and the cheese is melted.
Sprinkle with chopped fresh basil and serve with baguette slices (toasted, if desired) and mini sweet bell peppers.
Chef:
Family Food on the Table