Chicken Taco Quinoa Skillet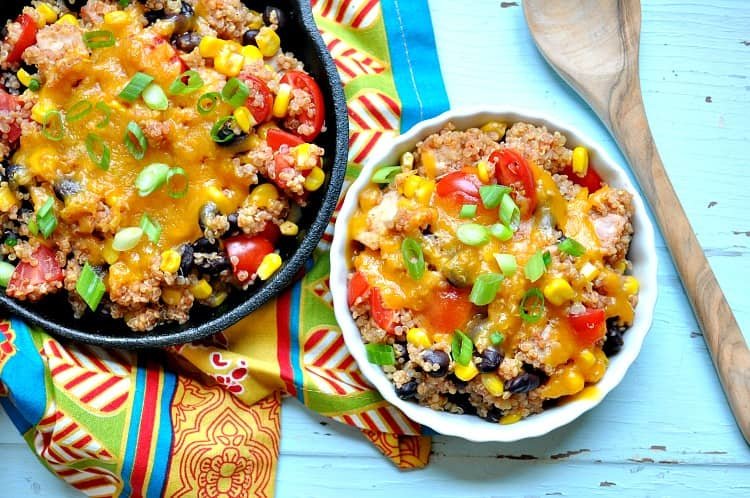 Nutrition Facts
Yield: 4
Calories: 460
Fat: 21g
Saturated Fat: 9g
Cholesterol: 70mg
Protein: 32g
Carbohydrates: 38g
Fiber: 6g
Sodium: 960mg
Ingredients
1 cup quinoa
1 tablespoon taco seasoning
1 cup corn kernels (fresh or frozen is fine)
1 canned black beans (rinsed and drained)
1 cup grape tomatoes (halved)
1 cup cooked chicken (diced)
1/2 cups salsa (or taco sauce)
4 ounces shredded cheddar cheese (or Mexican-blend cheese)
avocado
green onions
sour cream
guacamole
Directions
Rinse and drain quinoa. Add quinoa, water (as called for on package), and taco seasoning to a large pot and cook according to package instructions.
In a large oven-proof skillet, stir together cooked quinoa, corn, beans, tomatoes, chicken, and salsa.
Sprinkle with cheese.
Broil entire skillet on high for about 3 minutes, or until cheese is melted.
Garnish with green onion, sour cream, and avocado or guacamole.