Chicken Tacos with Avocado Citrus Salsa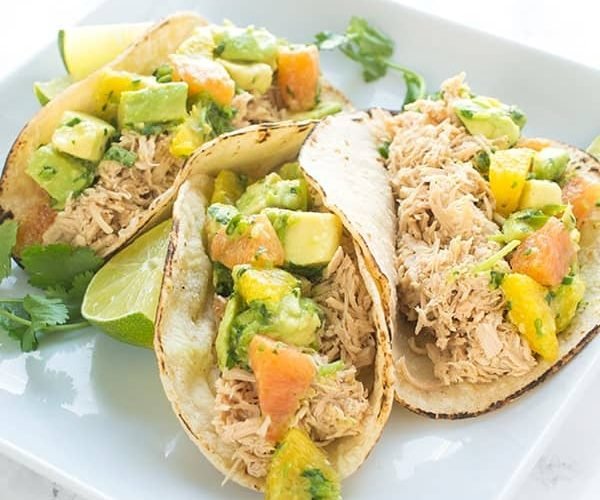 Nutrition Facts
Yield: 4
Calories: 400
Fat: 17g
Saturated Fat: 2g
Protein: 8g
Carbohydrates: 64g
Fiber: 18g
Sodium: 230mg
Ingredients
4 citrus (servings leftover Asian, Slow Cooker Shredded Chicken)
8 corn tortillas
2 avocado (pitted and cubed)
2 seedless oranges (any variety, such as Cara Cara or Navel)
1 lime
1/2 cups cilantro (minced)
1 jalapeno chilies (minced, remove seeds to keep mild)
salt
pepper
Directions
Warm up the leftover shredded chicken in the microwave until hot – 1-2 minutes.
In a medium bowl, toss together all of the Avocado Citrus Salsa ingredients. Check for seasoning and adjust accordingly; set aside.
Slightly warm the corn tortillas over an open flame using metal tongs. Flip the tortillas 2-3 times per side until slightly charred and pliable.
To serve, fill each tortilla with shredded chicken and a heaping spoonful of the Avocado Citrus Salsa.