Fish Tacos with Pineapple Mango Salsa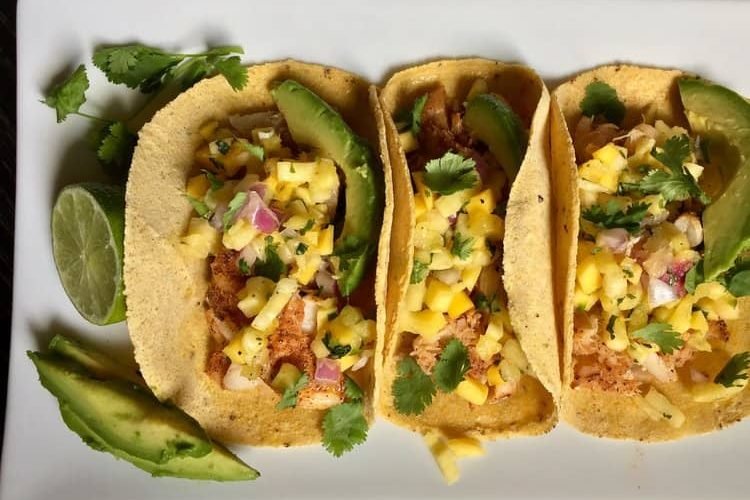 Nutrition Facts
Yield: 6
Calories: 180
Fat: 6g
Saturated Fat: 0g
Cholesterol: 30mg
Protein: 16g
Carbohydrates: 19g
Fiber: 3g
Sodium: 370mg
Ingredients
1 pound frozen cod fillets (or fresh, can use any white fish)
2 tablespoons oil (olive oil, avocado oil, or melted coconut)
1 lime
2 teaspoons chili powder
1/2 teaspoons garlic powder
1/2 teaspoons paprika
1/2 teaspoons salt
1/4 teaspoons black pepper
corn tortillas
1 mango (diced)
1 cup pineapple (diced)
1/2 jalapeno chilies (seeded and minced, or keep seeds for additional heat!)
1/2 cups cilantro (finely chopped)
1/2 lemon
1/4 teaspoons salt
1/4 teaspoons pepper
Directions
Preheat oven to 400 degrees F.
Combine marinade ingredients (oil, lime juice, chili powder, garlic powder, paprika, salt) in small bowl and mix together well. If using frozen cod, make sure to let thaw in the refrigerator the night before. Place fresh cod in large Ziploc bag and add in the marinade. Let marinate for at least 20 minutes.
Place marinated fillets in a baking dish and bake for ~10-12 minutes (fish should flake with fork). Use a fork to shred into small chunks.
To make pineapple mango salsa, dice all ingredients very finely and combine in bowl with lemon juice, salt, and pepper. Keep refrigerated in covered container until ready to top tacos.
Prep tacos by filling each corn tortilla with fish, salsa, slices of fresh avocado, and a squeeze of fresh lime. Enjoy!
Chef:
Eleat Sports Nutrition