Five-Minute Feta Bruschetta Dip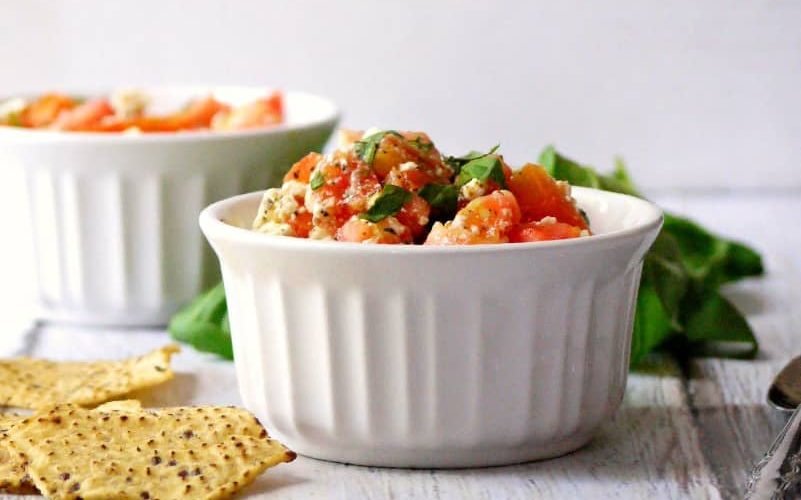 Nutrition Facts
Yield: 4
Calories: 90
Fat: 7g
Saturated Fat: 3.5g
Cholesterol: 15mg
Protein: 3g
Carbohydrates: 3g
Fiber: <1g
Sodium: 290mg
Ingredients
3 plum tomatoes (ripe)
1 clove garlic
1 tablespoon extra-virgin olive oil
1/8 teaspoons kosher salt
1/8 teaspoons freshly ground black pepper
1/2 teaspoons dried basil
1/2 cups feta cheese
1 tablespoon basil (fresh chopped, for garnish)
Directions
Dice the tomatoes and mince the garlic. Mix all the ingredients through the dried basil in a bowl together.
Add the feta cheese and microwave for one minute. If you're making a huge batch, you can bake it in the oven so the cheese browns a bit which would be delicious. But if you want to stick with the five-minute version, one minute in the microwave is just enough for the cheese to begin to melt and the flavors to meld together.
Top with fresh basil and more freshly-ground black pepper for garnish. Serve with your favorite tortilla chips or crackers.
NOTE: The dip is delicious served hot, warm or cold. It's the perfect dip to put out at a party because it can be enjoyed at room temperature.
Chef:
Healthy Recipe Ecstasy